Richard Grenell: Media Reaction To Hillary Clinton's Comment On Libya Attack Was 'So Overblown'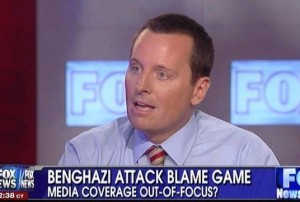 Former UN ambassador spokesperson Richard Grenell appeared on Fox News Watch Saturday, where he weighed in on media reaction to Secretary of State Hillary Clinton's statement on her responsibility over the State Department and its thousands of employees.
"I thought it was so overblown," said Grenell. "She in no way was saying 'I'm taking full responsibility,' but there was this incredible push from the State Department, reporters, and others trying to say she's taking the blame for this. I didn't see that. She said, 'Look, I'm responsible for the State Department.' That's not breaking news. She is the Secretary of State."
Fox News contributor Judith Miller, meanwhile, viewed the statement as Clinton cementing that she is responsible for the American consulate that had been attacked in Benghazi.
Talk News Radio Service bureau chief Ellen Ratner added her own two cents, predicting a Clinton presidential run in 2016 and venturing that she wants to be able to stand up during future debates and say "I took the hit." Jim Pinkerton of The American Conservative Magazine wasn't too sure about that, pointing out that Clinton has denied plans to run in 2016.
Ratner then shared that she'd found it "astounding" that Reuters' PR had "no comment" when it came to questions regarding their reporter's accuracy on the news outlet's Benghazi story.
Grenell felt the big issues at play here is a lack of honesty, ownership, and transparency over security lapses or inadequate security at the Libyan consulate, with Ratner adding that more attention has to be given to the press' reporting and its accuracy.
Check it out, via Fox News:
Have a tip we should know? tips@mediaite.com