Soledad O'Brien Spars With Romney Adviser Who Accuses Her Of 'Spin,' 'Talking Points'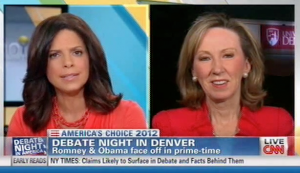 On this morning's Starting Point, Soledad O'Brien took on senior Romney adviser Barbara Comstock, questioning her on the Romney campaign's proposals to cut taxes and improve the economy. After Comstock's repeated remarks about O'Brien's "talking points" and "spin," O'Brien responded that she simply had questions. Comstock was the one spinning.
Asked about how Romney will fare in tonight's debate, Comstock replied, "Well, listen, I think the press will probably — no matter what happens, they can already write their stories, many of the mainstream press."
"What do you mean by that?" O'Brien interjected. "You said the mainstream press will be able to write their stories already, what do you mean by that?"
"They've been cheerleading for Barack Obama for weeks now, and I think they'll continue, but I'm not concerned about that," Comstock replied, going on to discuss how the debate provides Romney with an opportunity to speak directly to Americans. To talk about how he'll turn the economy around and "get rid of the loopholes and special interest things so that you can have a flatter, fairer tax code for everybody."
O'Brien noted that "people who crunched those numbers say that the math does not work out."
"No, Soledad, that's incorrect," Comstock replied, adding that it was "one left-wing group" that came to that conclusion. O'Brien countered that "numerous groups" said Romney's tax plan isn't fundable — then segueing into Paul Ryan's recent interview during which he told Fox News' Chris Wallace it would take him too long to explain the math.
Comstock responded to O'Brien's point rather indirectly, remarking that cutting taxes puts money back in pockets and small businesses. Obama's stimulus failed, she said, going on to cite numbers about health care premiums and lost jobs.
O'Brien observed she was offering up many statistics, adding, "There are many people would completely disagree with you."
"Soledad, I know you have your talking points," the adviser countered, "but the 700,000 comes from an independent study that shows the president's tax increases will kill 700,000 jobs."
"I don't have talking points, I have questions," O'Brien said. "And I believe you have talking points, and I would actually say people on both sides of the aisle have talking points."
Again mentioning what the Romney campaign deems to be Obama's failed economic policies, Comstock channeled Vice President Joe Biden's recent remark. "The middle class has been buried for the past four years," she said. "They know that experience. So it doesn't matter how you want to spin it. The past four years we're not better off."
There's "only one person who is spinning at this moment, and that would be you," O'Brien replied. "But I appreciate you joining us."
Take a look, via CNN:

Have a tip we should know? tips@mediaite.com