State Department Appears to Edit Briefing Video to Remove Admission of Falsehood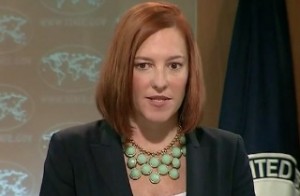 Fox News's James Rosen called out the State Department Monday, accusing them of deleting a damaging exchange from their archive video of a December 2013 press briefing.
In 2012, Rosen had the following exchange with State Department spokeswoman Victoria Nuland.
ROSEN: There have been reports that intermittently, and outside of the formal P5+1 mechanisms, the Obama Administration, or members of it, have conducted direct secret bilateral talks with Iran. Is that true or false?"

NULAND: We have made clear, as the Vice President did at Munich, that in the context of the larger P5+1 framework, we would be prepared to talk to Iran bilaterally. But with regard to the kind of thing that you're talking about on a government-to-government level, no.
Nuland's answer contradicts what we now know to be true. In a profile with The New York Times, national security advisor Ben Rhodes admitted that the White House secretly sought out nuclear talks much earlier than they told the public, as far back as 2011.
In 2013, after initial reports emerged that the Iran deal was negotiated earlier than the White House let on, Rosen confronted Nuland's successor Jen Psaki. But when Rosen went back to pull the video of that confrontation for a Fox News segment years later, he noticed that his questions had been edited out.
"Late today, we discovered that the State Department's video of its December 2, 2013 press briefing, at which I confronted spokesperson Jen Psaki… has itself, with the use of a white flash, been deleted from both the State Department's official website and from its YouTube channel," he reported during Monday night's edition of Special Report.
Rosen claimed that in the deleted section of the video, Psaki "effectively admitted" that the administration lied to him, citing "privacy" concerns.
The version of the briefing posted on YouTube does appear to be truncated, with a white flash appearing twenty-seven minutes in that cuts just before and after Rosen's lengthy line of questioning.
In the deleted remarks, Rosen directly asks Psaki whether it's the State Department's policy to lie to reporters in order to preserve secret negotiations. Psaki gives an answer that, at best, doesn't rule the idea out.
ROSEN: Is it the policy of the State Department, where the preservation or the secrecy of secret negotiations is concerned, to lie in order to achieve that goal?

PSAKI: James, I think there are times where diplomacy needs privacy in order to progress. This is a good example of that. Obviously, we have made clear and laid out a number of details in recent weeks about discussions and about a bilateral channel that fed into the P5+1 negotiations, and we've answered questions on it, we've confirmed details. We're happy to continue to do that, but clearly, this was an important component leading up to the agreement that was reached a week ago.
The version of the video posted on the State Department website has since been updated to include Rosen's full questions.
Watch above, via State Department.
[Image via screengrab]
——
>>Follow Alex Griswold (@HashtagGriswold) on Twitter
Have a tip we should know? tips@mediaite.com