Stephanie Cutter Hits Bush on Crossfire: Obama's Apology 'More Than We've Gotten in the Past'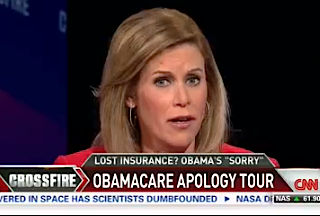 Much in the same way David Gregory did this morning on Morning Joe, Crossfire host Stephanie Cutter contrasted the way President Obama apologized to the American people last night about Obamacare with the way former President George W. Bush refused to apologize to the American people about the War in Iraq.
"The president's apology is more than we've gotten in the past from some presidents," Cutter said. "Some presidents don't know how to apologize." She then showed a clip from a 2010 interview Bush gave to the Today Show's Matt Lauer. While the former president admitted he was "sickened and angry" that we didn't find weapons of mass destruction in Iraq, he refused to apologize.
"I mean apologizing would basically say the decision was a wrong decision," Bush told Lauer, "and I don't believe it was the wrong decision."
Cutter urged her conservative guest Grover Norquist to "give credit where credit is due" to Obama for doing "something that other presidents weren't able to do."
"I'm not sure I heard an apology," Norquist responded. "He lied to the American people again and again." He then went on to castigate President Obama for trying to decide what health care plans were "sub-par" and which were not.
When Cutter and Washington Post columnist Ruth Marcus pointed out that the Affordable Care Act actually does allow the government to decide which health care plans are up to par, Norquist fought back by questioning the validity of its passage.
"Yes, it's a law, which he passed, which is a lie from what he said," Norquist said. On top of that, he added, "it was passed all with Democrat votes," which in Norquist's book appears to make it illegitimate.
Watch video below, via CNN:
[photo via screengrab]
— —
>> Follow Matt Wilstein (@TheMattWilstein) on Twitter
Have a tip we should know? tips@mediaite.com