The Five's Conservatives Trash Obama Debate Performance, Juan Williams Blames Twitter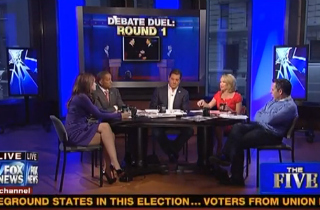 This afternoon, Fox News' The Five dedicated the first segment of the show to giving the co-hosts' individual thoughts on last night's first presidential debate. Naturally, the four more conservative co-hosts universally panned President Obama while praising Mitt Romney, while lone liberal Juan Williams identified himself as the only person who doesn't think the president lost.
"It was great," said Eric Bolling. "Mitt Romney made President Obama look silly and small. Mitt Romney was great; President Obama was bumbling. He looked like he didn't want to be there."
"[Obama] looked like a man defeated," agreed Kimberly Guilfoyle.
Dana Perino then offered her thoughts, praising Romney for being "bold and fresh" (so he's Bill O'Reilly?) and showing up the media and Obama campaign for painting a distinctly negative image of him over the last seven or eight months.
Self-identified "skunk at the garden party" Juan Williams, however, believed that Obama won the debate. He blamed "Twitter and the whole blogosphere thing" for creating the "consensus" that the president was "devastated and crushed."
Williams later identified Michael Moore, Andrew Sullivan, and other liberals as being responsible for this consensus because they wanted Obama to come out swinging but were disappointed and "turned on him."
"Who knew that preparation with Joy Behar would have been a bad idea? Spending all that time on [The View] couch," quipped Greg Gutfeld. "Obama had such a rough night that Sandra Fluke called him to see if he was doing okay."
Watch the whole segment below, via Fox News:
— —
>> Follow Andrew Kirell (@AndrewKirell) on Twitter
Have a tip we should know? tips@mediaite.com