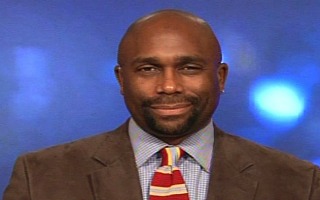 The career of Politico reporter Joe Williams, recently suspended after making racially inflammatory comments about Republican presidential candidate Mitt Romney, is a fascinating tale. His rapid rise and near-instant ubiquity on MSNBC's point of view programming is mirrored by his equally rapid fall from grace. Williams's meteoric rise is a cautionary tale that reporters should bear in mind as they push to join the fray on cable news. You can get a lot of air time by being sensationalist – but a reporter's career and the brand of their employer can be severely damaged unless they apply caution in the process.

RELATED: Suspended Politico Reporter Joe Williams Tweeted 'Racism' Politico's 'Secret Sauce'
Williams was recently suspended from Politico after he told MSNBC host Martin Bashir that he felt former Massachusetts Gov. Mitt Romney was "very, very comfortable, it seems, with people who are like him. … [W]hen he comes on Fox & Friends, they're like him; they're white folks who are very much relaxed in their own company."
Williams took to twitter the day his suspension was announced to say he was "done" at Politico. Though he may have prematurely celebrated his separation from the publication.
In an email to reporters, Williams said that his review process has not yet begun and his "future remained unclear."
Having covered the Shirley Sherrod firing and seen the fallout from James O'Keefe's brand of journalism, I'm not surprised a small group with Internet access and an ambitious agenda can undermine and distort legitimate analysis of political news.
Williams sounded an overdue, if muted, note of contrition in the email when he wrote that "It's quite unfortunate and incredibly frustrating, however, that I landed in the crosshairs this time, calling Politico's integrity into question and jeopardizing a job and a career that I love."
But Williams has a track record of straddling the line, particularly when it comes to racial issues. In fact, that was partially why he received the attention (and airtime) that he did from cable news networks like MSNBC.
The former Washington bureau chief for the Boston Globe, Williams joined Politico in April 2010. Williams quickly became a rising star among Politico's many telegenic reporters, and by early 2012 he was a regular guest on a number of point of view programs on NBC's cable news network.
On Bashir's program in May, Williams appeared with a TheGrio.com contributor who said that opposition to President Barack Obama is a "backlash against an African American president" in the same way that Reconstruction-era Southerners reacted to occupation by founding organizations like the Klu Klux Klan.
In that segment, Williams concurred with the guest and noted that any political ad which highlighted President Obama's association with his former reverend, Jeremiah Wright, would be a more than a dog-whistle: "It's a claxon. It's an air raid siren. It's a call to arms."
Williams said that voters respond to "these code words" – agreeing that Romney's allies, if not the candidate himself, were more than willing to employ racism to mobilize opposition to the President.
In fact, Williams would nearly always take the bait when he was asked to weigh with his opinion on a racially inflammatory premise.
Williams found The Daily Caller reporter Neil Munro's disrespectful interruption of President Obama's Rose Garden press conference in June to be at least partially racially motivated. He told MSNBC guest host and Georgetown University Professor Michael Eric Dyson that it was "very, very difficult to place race outside of this context."
In that appearance, Williams found it necessary to indict the entire tea party movement of being guilty of using "racially tinged imagery and racially tinged sort of statements to get their point across."
Williams had carved out a niche for himself on television by giving voice to conspiratorial notions that some progressives allow themselves to believe – many of which had no other proponents in the mainstream.
Perhaps the most egregious of which occurred on Current TV in June. There, Williams provided much-desired ammunition to "netroots" progressives – irate that the news media has not openly condemned Congressional Republicans for not moving ahead with President Obama's election year jobs plan. Williams told Jennifer Granholm that it was his opinion that reporters were covering up for Republican obstructionism.
Well, I'll probably get some heat for this, but certainly, in my view, and again, I'm only speaking as one reporter–in my view, they have done a very good job of pushing back–we always talk about Republican push back and we always talk about the fact that they are very much intent on staying on message–they do it very, very well. They've got very intense message discipline and they are very good at convincing journalists, that's probably a more polite word, convincing them that not only is their stance legitimate, but you might have gone too far. And there are some journalists who are very sensitive.
That kind of catnip would be difficult for any cable news point of view program network to avoid, on the right or the left.
While one could argue the merits of these subjective judgement calls, they are just that. Furthermore, the stature which Williams' title at Politico lends to his comments makes them potentially damaging to the industry he professes to love.
On Tuesday, it was revealed that Williams took to his now-deleted Twitter account in March to accuse his former employer of racism.
"What's most irritating is the overlay of blatant racism. That's the secret sauce in the Politico shitburger," Williams tweeted, according to a report in The Daily Caller.
Nine minutes prior to that revealing tweet, Williams wrote, "we're supposed to be about justice and the truth, but we're mostly about posturing, arcane rules and CYA [Cover Your Ass]. Annoying."
The Daily Caller speculates that those tweets may have been intended as direct messages to an unknown recipient. When asked for comment about those tweets back in March, Williams replied "I was having a bad day" and referred reporters to his lawyer for further comment.
Williams has had a long track record of taking controversial positions that generate media invitations, but he should have exercised more discretion when giving voice to them. Last week, Williams simply went too far in describing a Republican presidential candidate a secretly uncomfortable around black people.
Politico's move to suspend Williams was absolutely correct. Williams may be reinstated – and if he is, he will be properly chastened by his recent experience. His is a didactic story of how alluring cable news can be and just how blinding those studio lights are. Journalists looking to catapult their television careers should certainly take note.
> >Follow Noah Rothman (@Noah_C_Rothman) on Twitter
Have a tip we should know? tips@mediaite.com