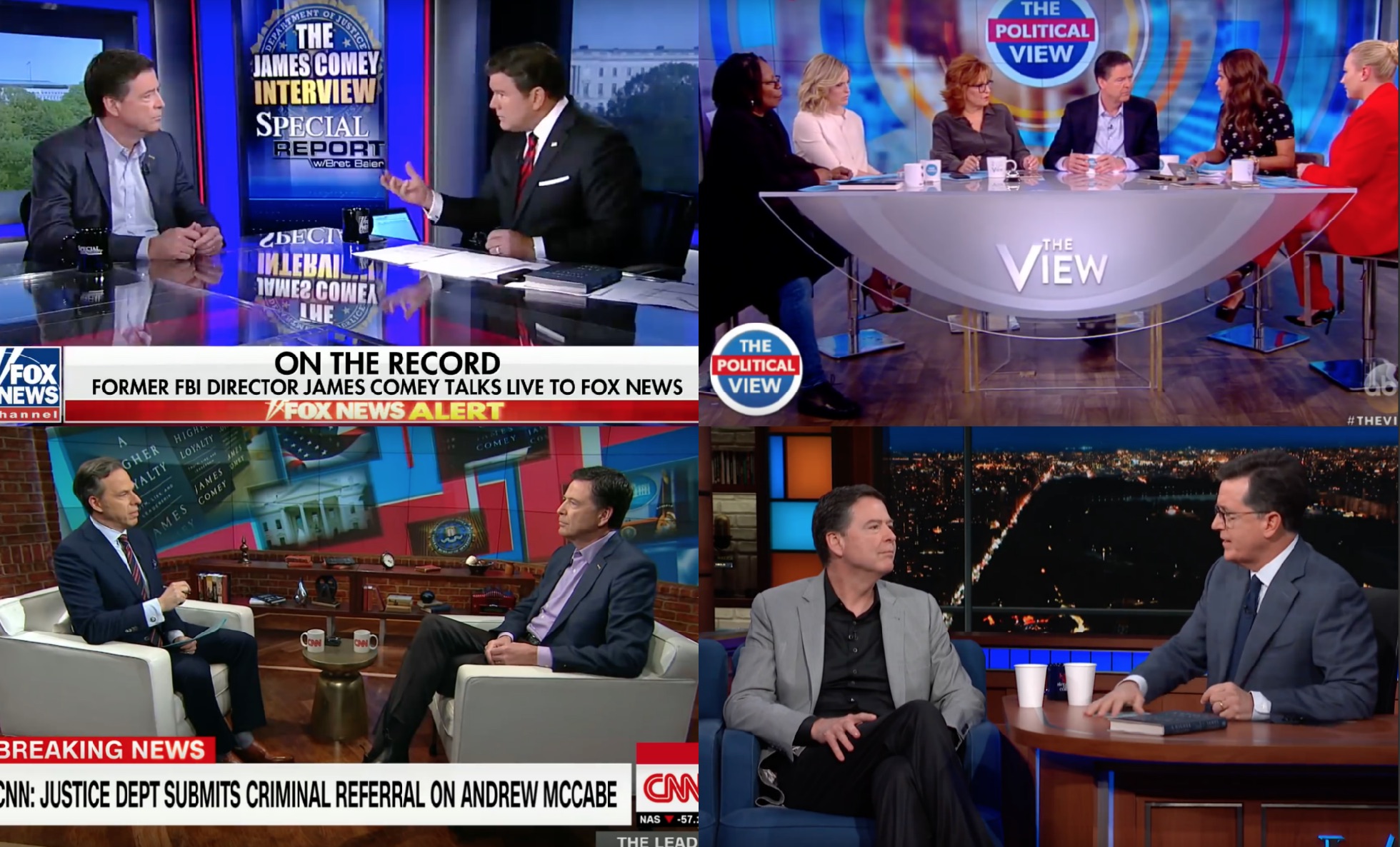 It's been almost two weeks since former FBI Director James Comey launched his book tour and in the process has done many, many TV appearances. And while A Higher Loyalty is already a bestseller, many folks in the media unanimously agree that there weren't exactly major revelations that came from the memoir, so it was up to them to get the answers they want directly from the source.
With that in mind, here are the five best interviewers Comey has faced so far.
5. Savannah Guthrie (NBC)
Savannah Guthrie only had ten minutes with the former FBI director and she didn't waste a second. The strongest portion of her interview was when she asked him if he enjoyed "taking shots" at President Trump for his appearance and when Comey insisted he wasn't, the Today Show host bluntly responded the same way many viewers did…"Really?" Her question about whether he thought he made the potential prosecution of Trump "tougher" because of this book why if he felt this way about the president he didn't stand up to him was also noteworthy.
4. Stephen Colbert (CBS)
It goes without saying that Stephen Colbert isn't a hard-hitting journalist, but when you look past all the jokes he made at the expense of the president, he actually challenged Comey a bit. He confronted him about Fox News anchor Chris Wallace's criticism of Comey's book when he called it "bitchy" for mocking Trump's hair and tan and asked him to react to a clip from last year showing how his audience cheered when he broke the news during his monologue that Trump had fired the FBI Director. However, Colbert's most impressive exchange with Comey didn't even make it on-air. In the full uncut interview that was posted online, he surprisingly grilled Comey about the damning classified information about former Attorney General Loretta Lynch that the general public still doesn't know about. While Comey didn't budge on sharing any details, Colbert deserves credit for pressing Comey on it for several minutes.
3. Jake Tapper (CNN)
For nearly 30 uninterrupted minutes, CNN's Jake Tapper covered a lot of ground. His biggest strength was his follow-up questions. For instance, Tapper got Comey to walk back his assertion that it's "possible" that Russia had dirt on President Trump. He pointed out the double standard how Comey handled the Clinton email investigation so publicly during the election while keeping the investigation regarding alleged collusion between Russia and the Trump campaign under wraps. And more specifically, how he worried by not sending that letter to Congress when reopening the Clinton probe that would make Hillary Clinton a "illegitimate" president had she won, he essentially ended up doing it to Trump with the Russia probe. The most jarring moment from the interview was when Comey refused to answer whether the country would be better off with Clinton as president, which was something he answered just hours later during a non-televised sit-down.
2. Meghan McCain (ABC)
During his entire book tour, few have held Comey's feet to the fire better than Meghan McCain. The View's conservative pundit really held nothing back. McCain called him out for sounding like a "political commentator" for trashing Trump and was the first interviewer to grill him for his defense of former FBI Deputy Director Andrew McCabe after it was discovered that he leaked to the press and lied to investigators under oath. She also successfully tag-teamed with Joy Behar on the subject of Comey's reopening of the Clinton investigation just days before the election. Because McCain is more of a commentator than a journalist, her exchanges with Comey were a balance of solid questioning and reasonable criticisms.
1. Bret Baier (Fox News)
Fox News anchor Bret Baier easily had the sharpest line of questioning for the former FBI director to date. Regarding the Clinton investigation, he grilled Comey about writing his exoneration letter months before interviewing Hillary Clinton and how the FBI allowed top Clinton aid Cheryl Mills to sit in on the interview as Clinton's lawyer despite herself being part of the investigation. Baier was the first to question Comey about the report that the FBI was pressured into reopening the Clinton investigation in October 2016 by authorities in New York. He grilled Comey on his handling of his memos and why his pal Daniel Richman was considered a "special government employee" and also asked about his defense of Andrew McCabe and his knowledge of the perceived anti-Trump bias from FBI agents Peter Strzok and Lisa Page. But the biggest piece of news to come out of any of these interviews was when Comey claimed that he didn't know at the time that the Trump dossier was funded by the DNC and the Clinton campaign when it was used to obtain a FISA warrant as part of the Russia probe. Or when he contradicted GOP lawmakers and claimed the dossier only played a minor role in obtaining the warrant.
Despite being nearly two weeks into his book tour, Baier asked dozens of questions that previous interviewers failed to ask and were given in such an airtight fashion that Comey even showed signs of struggling at times. Of everyone Comey has sat down with so far, Baier deserves the most praise.
[image via screengrab]
This is an opinion piece. The views expressed in this article are those of just the author.