There's No SNL This Weekend; We Imagined Their Benghazi-Inspired Cold Open Anyway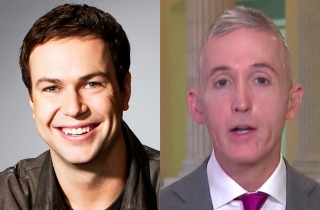 There's no doubt that Saturday Night Live has gotten off to an awesomely strong start for its 41st season. In three killer episodes, the show has managed to again remind everyone of its social relevance, providing jokes quickly spun into campaign talking points. After three consecutive weeks of putting on live shows, Studio 8H will be dark this Saturday, unfortunately timed to miss out on skewering Thursday's Special Committee on Benghazi at its ripest. However, we at Mediaite felt like we could imagine exactly what the show's cold open would look like if it were airing.
Opening Shot:
Taran Killam as Committee Chair Trey Gowdy, peaky spiked hair exaggerated. To his side would be seated a bald-capped Kenan Thompson as Democratic Ranking Member Elijah Cummings. Big opening applause. We see they're both worn out and exhausted.
Seated beside them would be a variety of staffers and Committee members, equally tired, with a superimposed C-SPAN bumper graphic at the bottom.
Killam as Gowdy in a just-thicker-than-real Southern drawl exhaustively drones on…
Welcome back to the House Special Committee on Benghazi. We have been here — [checks watch] ten hours — asking Secretary Hillary Clinton questions surrounding the Benghazi attacks and her subsequent email controversy.
Off of the exhausted energy of the drained Committee, camera cuts to crazed wide eyed and impossibly energetic Kate McKinnon as Hillary Clinton.
"I AM ONLY GETTING STRONGER WHILE THIS ENTIRE COMMITTEE WILTS WITH THE PASSAGE OF TIME!"
The crowd goes nuts. That would be the basic bit of the sketch, the repeated game to return to — Clinton feeding off the energy of the Committee's hard line of questioning, growing stronger as the day goes on, like a Harry Potter character eating the souls of her adversaries. McKinnon's version of Clinton is sharper and almost demonic compared to Amy Poehler's desperate and calculating Stateswoman from 2008.
The Committee would try its best to hit her with questions aimed at the perfect "gotcha" soundbite, but Clinton would deflect each with ninja-like elasticity. McKinnon might toss in an actual karate kick or two. Physicality gets laughs and McKinnon's great.
The rest of the humor would play on the nuances of certain Committee members, exaggerating things that happened throughout the day. Vanessa Bayer might play Representative Martha Roby, poking at the exchange of Clinton laughing at the question of whether or not "she was alone" on the night of the attack. "I don't know why that's funny. I DON'T KNOW WHY THAT'S FUNNY!" Bayer might yell, before breaking down into tears and admitting her whimperish exhaustion (shots would be more likely fired towards the Republicans than Clinton or the Democrats, of course).
Other likely casting choices for the cold open: Bobby Moynihan as Kansas Rep. Mike Pompeo, and maybe Beck Bennett to play Rep. Jim Jordan of Ohio. Maybe character favorite Cecily Strong as Indiana Rep. Susan Brooks, poking fun at Brooks' props of paper piles she presented regarding Clinton's emails.
For some reason, they would justify a walk-on of Bill Clinton too of course. Maybe after a Committee member makes a comment about "going at it for ten hours", a raspy Bill via Darrell Hammond would creep into frame and say, "…oh, going at it for ten hours, all right all right…" or some other low-hanging fruit.
Especially with Hammond now serving as the show's post-Don Pardo announcer, the opportunities for a Bill entrance will always be on the table.
I'm sure the cold open would have fun with Clinton's coughing heard 'round the world, perhaps as a last hurtle for McKinnon to overcome en route to absorbing the power of the panel.
"What's happening? What is this thing happening in my throat? Is this what weakness feels like? I MUST OVERCOME!"
Although SNL is set to return from hiatus on Saturday November 7, with none other than Donald Trump set to host, it is not likely that they will cover Thursday's Committee; it will actually be the night after the next Democratic debate, which yes, is being held on a Friday, so expect the cold open to feature a parody of that. Meanwhile in our own Mediaite-imagined version of what tomorrow's cold open would look like, they would figure out some way to tie together Gowdy and Clinton (Killam and McKinnon) tight into frame for the legendary cold open button:
"LIVE FROM NEW YORK IT'S SATURDAY NIGHT!"
[image via NBC]
—
>> Follow J.D. Durkin on Twitter (@MediaiteJD)
This is an opinion piece. The views expressed in this article are those of just the author.