'This Guy Has Emotional Problems': The View Jumps On 'Weeper Of The House' John Boehner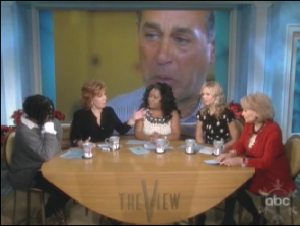 While a weepy 60 Minutes interview with Speaker-elect John Boehner had CBS claiming that real men do cry, the real women of The View are also crying—with laughter. After showing the teary clip to their audience, the ladies began to discuss what they'd just seen. Barbara Walters went first. "This guy has an emotional problem," she said. "Every time that he talks about anything that's not 'raise taxes,' he cries."
Walters sensed a double standard here, taking the opportunity to compare the incoming House Speaker with the outgoing one. "If you had seen Nancy Pelosi, [in] all these past years, crying, what would you say?"
Joy Behar quickly jumped in. "I think that it's interesting to watch him cry," she said, analyzing the man's weepy sensitivity with an academic coldness. "We call him Weeper of the House."
He cries only when he talks about how sad his life was. He had to sweep floors, he was a janitor, and he pursued the American dream. And yet he has very little empathy for people who are in that position now.
She went on to name some of the tax policies she found most offensive, but Elisabeth Hasselbeck interrupted, taking it upon herself to defend the sobbing Speaker. All the while, a gigantic screen behind them looped images of the crying conservative, lending a touch of surrealism to the whole affair.
Watch the ladies of The View discuss John Boehner's leaky tear ducts in the ABC clip below. [Via RealClearPolitics]
.
Have a tip we should know? tips@mediaite.com