This Week Panel Clashes Over Gun Control: Obama Sends 'Rappers' To White House, 'Nobody Is Scandalized'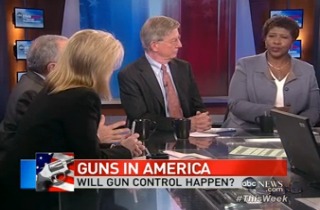 The panel at ABC's This Week Sunday clashed over potential new gun control legislation in the wake of the Sandy Hook Elementary School shooting in Connecticut, with some panelists emphasizing violence in our culture and others emphasizing gun control.
George Will said that President Obama should examine the violence in his hometown of Chicago and "see if gun control has anything to do with that."
Greta Van Susteren of Fox News said she believes violence in media is a large problem. "We're numb to violence," she said. Van Susteren also noted that "nobody is scandalized" and cited the fact that Obama "sends rappers to the White House" as part of the problem.
PBS's Gwen Ifill took issue with Van Susteren's comment and quipped, "I'm trying to figure out whether any rappers have resulted in the death of schoolchildren. I don't think so."
"I don't think it's all schoolchildren," Van Susteren shot back. She brought up the murder of two New York firefighters on Christmas Eve and said "this has put a highlight on the problem."
Ifill underscored Will's former comments about violence happening every day and retorted to Van Susteren that Washington needs to be looking at a comprehensive solution to America's violence problem.
RELATED: Hannity Panel Blasts Hollywood Hypocrisy: Celebrities Decry Gun Violence, But Star In Violent Movies
According to Van Susteren, Washington may not be able to "answer that question for the nation," and "we all have to look at ourselves as well."
Robert Reich jumped in and noted the murder of young schoolchildren touched a nerve in America that was necessary. The panel noted that the frequency with which new gun legislation gets passed is also important, but that it may be put off until after the several debates regarding government financial policy.
Watch the full clip below, via ABC:

—
>>
Follow Anjali Sareen (@AnjaliSareen) On Twitter
Have a tip we should know? tips@mediaite.com