Tony Perkins To O'Reilly: Southern Poverty Law Center's 'Hate Group' Label Gave Shooter 'License'
Tony Perkins To O'Reilly: 'Hate Group' Label Gave Shooter 'License'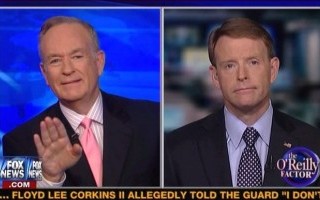 Family Research Council president Tony Perkins appeared on The O'Reilly Factor Thursday night to comment on the Wednesday shooting at the conservative Christian lobbying group's offices. Perkins said that the Southern Poverty Law Center's labeling his organization as "hate group" gives "license to lunatics" to come in and attempt to harm its employees.
There is clearly, based on what took place there, a motive," Perkins began. "Now, Bill, let me say: the gunman, Floyd Corkins, pulled the trigger yesterday. He is responsible for shooting my colleague and my friend. But, let me say, I believe that the Southern Poverty Law Center is responsible for creating the environment that led to this. … [B]ecause they disagree with our positions on marriage and certain religious issues have labeled us a 'hate group', and that gives license to lunatics like this to come in with a gun and shoot innocent people."
Bill O'Reilly then asked Perkins about the reports that Corkins had a large amount of ammunition on him, in addition to 15 Chick-fil-A sandwiches as a reference to the company's recent controversy over gay marriage. Perkins said that the media's subsequent identification of FRC as one of the "anti-gay" groups that Chick-fil-A supports gave way to an environment for which people feel free to take armed action.
Perkins clarified that FRC's involvement with the fast food company has been very limited, and that he believes the "hate group" labeling has been misused by the media: "[Chick-fil-A gave us $1,000 a few years ago. Far from being a big supporter of ours. We wouldn't mind having their support but they haven't been that way. In those reports, they say, 'The Family Research Council, which is a hate group, a certified hate group from the Law Center.' when you you marginalize people like that it gives license to people like this to take action."
Watch below, via Fox News:
— —
>> Follow Andrew Kirell (@AndrewKirell) on Twitter
Have a tip we should know? tips@mediaite.com