MSNBC Broadcasts 19 Segments On Voter I.D. This Week, Ignores Poll Showing 74% Support For I.D. Laws
MSNBC's 19 Segments On Voter I.D. Ignores Poll Showing 74% Support For I.D. Laws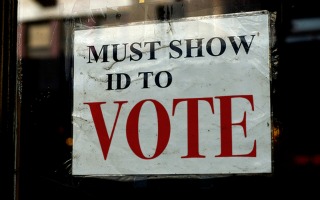 On Monday, a Washington Post poll that asked Americans to voice their feelings on the issue of voter I.D. sent shockwaves through the political world. The findings of that poll shattered the assumption that voter identification is viewed as a threat to American enfranchisement, but you would not know that from watching MSNBC. The network has devoted a number of segments in the last week to voter identification laws and the threat they pose, but they have conspicuously avoided mentioning this poll which debunks the presumption that Americans are concerned about disenfranchisement resulting from voter identification laws.

The Washington Post poll showed 74 percent of adults support requiring voters to show photo identification at the polls to 23 percent who oppose such measures. 48 percent said they feel voter fraud is a "major problem" and 33 percent said this was a "minor problem." Only 14 percent said voter fraud was "not a problem."
Across ideology and demographics, support in the poll for voter I.D. was strong. 86 percent of self-identified Republicans support voter I.D. measures. 67 percent of independents and 60 percent of Democrats also voiced their support. 78 percent of white adults, 65 percent of African Americans and 64 percent of Hispanics support voter I.D. 75 percent of men and 73 percent of women agree: voter I.D. laws are necessary.
There is some contradictory information in the poll – 41 percent of respondents also said voter suppression is a "major problem." Also, while 49 percent said voter fraud was a major concern, 44 percent said denying eligible voters the right to vote was their primary concern with voter I.D. But for the most part, the poll showed the anti-voter I.D. messaging is not penetrating the broader public.
These are earth-shattering numbers in a nation that cannot agree on anything – from the Boy Scouts to Baseball – to the tune of 74/23 percent. This newsworthy poll about a heated issue that is a major subject of debate should penetrate the national dialogue. However, if you only watched MSNBC, you could be excused for thinking that voter I.D. represents an existential threat to democracy and amounts to a coup being perpetrated by Republican-dominated state legislatures.
Since the poll was released on August 13, MSNBC has done 19 segments focusing on the issue of voter I.D. laws, according to the television monitoring service TVEyes.com.
On the 14th, MSNBC hosts Chris Matthews and Al Sharpton focused on the voter I.D. issue, highlighting voter I.D. laws in Pennsylvania and Ohio. In his August 14 segment, Sharpton blasted high-minded platitudes at his audience about the importance of protecting voting rights as it relates to America's image abroad:
How do we preach to the world democracy? How do we say have a vote and choose your leaders and then come home and use every scheme we can to undermine people from voting, suppress voting, and to go backwards and retreat on those things that brought more voters out? This country's better than that. We are better than that. we are not going to stop until we protect everybody's vote and everybody's plan choice.
Surely, some of that airtime could have been devoted to chronicling public opinion for an audience which is, presumably, interested in the subject of voter identification laws and political analysis.
On the 15th, MSNBC devoted 13 segments and mentions to voter identification laws and feature the issue nearly once an hour. The coverage changed little from the dayside straight news broadcasts in the 10 a.m. through 2 p.m. blocks to the primetime opinion programming where Matthews, Sharpton, Ed Schultz and Rachel Maddow.
As of this writing at 5 p.m. on August 16, there have been four segments across the dayside and early-morning programming that discussed voter I.D. laws.
Many of the segments featured progressive guests lamenting the watering down of voting rights due to the identification requirement. "Voting suppression," "poll taxes" and "literacy tests" are the stark, racially charged terms used to describe various state legislatures' efforts to decrease the instance of fraud.
The framing of the issue in those starkly racial terms is attributed to Maddow's August 15 guest Kathy Culliton-Gonzalez, a representative with The Advancement Project. This advocacy group has also become a regular feature on MSNBC – with guests joining both the dayside and primetime hosts to voice their concerns about voter identification laws on several occasions this week.
Both Democratic politicians and some MSNBC hosts have a point in that the true scourge of vote fraud is not in person voter impersonation, which would be addressed by forcing voter to carry photo I.D. As I've written in the past, the true voter fraud issue is the accepted practice, engaged in by operatives of both parties, of absentee ballot stuffing. But some MSNBC hosts' editorial position, that voter identification laws merit the near wall-to-wall coverage, cements the impression that those hosts are engaging in advocacy and not reporting.
Perhaps, it would inform the network's viewers to present the Washington Post poll's data and ask why so many Americans do not share the hosts' near universal opinion that voter identification laws are a critical concern?
> >Follow Noah Rothman (@Noah_C_Rothman) on Twitter
Have a tip we should know? tips@mediaite.com