Trevor Noah Faces Toughest Task in Showbiz: Being the Guy Who Follows the Guy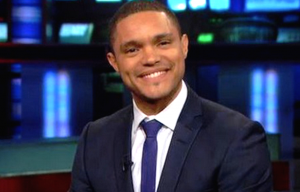 Rule of thumb in almost every situation in entertainment and sports:
Never be the guy who follows the guy.
In the Mediaite world of political media, the best example of this rule is David Gregory following Tim Russert as moderator of Meet the Press after the latter's passing. Note: Gregory was a seasoned pro when he was tapped to fill Russert's shoes. From the Today Show to the NBC Nightly News, he performed admirably and was a rare jack-of-all-trades in the business, seamlessly going from casual and witty when getting his at-bats in the morning on Today and Weekend Today to a sober, sound news anchor when filling in for Brian Williams or Lester Holt on weekday and weekend evenings.
But performing in certain roles is much like boxing match-ups: It's all about styles. And while Gregory could perform in the aforementioned roles at a high level, Sunday morning political shows are a different beast altogether. And when it came to interviewing big names in politics or quarterbacking panels largely consisting of the DC press and pundits, Gregory was just pretty good, certainly not great. In many cases, pretty good can suffice…but when that grade is put up against the greatness of Russert, pretty good suddenly doesn't look so good. In the end, the shadow of Russert was just too large to get out from under of, even for a versatile veteran like Gregory.
On the sports front, the best example of the never-be-the-guy-who-follows-THE-guy rule is (arguably) poor Danny White. He was lucky enough to take over for Roger Staubach after his abrupt retirement following the 1979 season (having suffered 20 concussions over a 10-year career). Staubach was America's quarterback on America's team, and the owner of two Super Bowl rings and four Super Bowl appearances to boot. Everybody loved Roger. Tough, handsome, served his country in Vietnam before going to the NFL. Danny White was David Gregory: Talented, capable…but definitely not someone would could ever be confused with Staubach (which was completely unfair). In the end, White led the Cowboys to three straight NFC Championship games…and lost all three (Montana-to-Clark being one of them).
Fast-forward to March of 2015, and we're (perhaps) at another never-be-the-guy-who-follows-the-guy moment…this time at Comedy Central: Trevor Noah gets to play the role of David Gregory and Danny White after being chosen to replace Jon Stewart. Twenty years younger than the current host and of South African descent, it's obviously a dream come true for the relatively unknown comic. And while he won't get paid the $25-$30 million Stewart earned annually, even if he gets ten percent of those numbers, that ain't a bad way to make a living.
Will he do well? Was he the right choice? Nobody really knows. Noah has only appeared on The Daily Show three times total as a correspondent. However, hosting a program — particularly a comedy one that carries an even bigger burden — is much different than simply contributing on one, and we'll find out later this year if Noah has the chops to do a full half-hour four days a week under a big microscope. And therein lies the rub: This isn't just about being pretty good… like Gregory and White were in their final roles. This is about being as good as someone who occupied that chair for 16 years to tremendous ratings and profound, unparalleled influence on political discussion.
Larry Wilmore–who took over for Stephen Colbert in January–knows how high the hill is when replacing the guy. Wilmore's show has its moments, but not nearly the next-day buzz Colbert did (largely because Stephen's character allowed him to be more bold). And the ratings show it per a Wall Street Journal story on Monday:
Since its debut on Jan. 19 through Feb. 22, "The Nightly Show" averaged 775,000 viewers, or about three quarters of what "The Colbert Report" commanded over the same time period last year, according to Nielsen. In the key 18-49 year-old demographic, which advertisers pay a premium to reach, Mr. Wilmore has averaged 443,000 viewers versus Mr. Colbert's 644,000.
If I'm Noah, here's what I would do to avoid the comparison: Follow the roadmap set by John Oliver on HBO's Last Week Tonight. It seems like yesterday that more than a few observers thought Oliver would just bring with him a mirror image of The Daily Show to HBO after his successful stint as Stewart's fill-in during the summer of 2013. Instead, the Brit was wise enough to create his own brand, particularly through compelling and hilarious (a tough tightrope to walk) deep dives into issues cable news largely doesn't have the time, patience or vision to cover. All of that said, if Trevor hopes to succeed, he needs to make The Daily Show his own: Change the music. Change the set. Offer more than a few wrinkles, all while honoring the basic formula that has made it so successful.
Not an easy feat to achieve.
In the span of a year, Comedy Central loses Jon Stewart and Stephen Colbert. The network will survive, of course. But when we look back on Comedy Central years from now, the Stewart/Colbert Era will always be seen as its apex.
Here's wishing Trevor Noah good luck. He gets the opportunity of a lifetime.
And here's hoping the rule behind never being the guy who follows the guy doesn't apply.
— —
>> Follow Joe Concha on Twitter @JoeConchaTV
Have a tip we should know? tips@mediaite.com