Trump: If There Is A Default, Americans Will Blame 'One Name And That's Obama'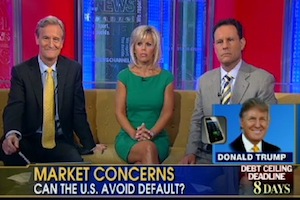 Donald Trump spoke with the hosts of Fox & Friends this morning and revealed an uncompromising position on the debt negotiations that he hopes Republicans adopt. With his eye on the prize of making sure President Obama does not get a second term as President, Trump seems to be arguing that the Republicans have just three choices: (i) accept a "deal" where they compromise on nothing and get everything they want; (ii) agree to a short-term extension, forcing Obama to engage in these debt talks again during his re-election campaign; or (iii) don't raise the debt ceiling and if the country defaults it's Obama fault.
The author of the best-selling book The Art of the Deal seemed less interested in securing a "deal" and more excited by how vulnerable Obama could be. Trump's advice to Republicans, who according to him, have all of the leverage:
"The fact is unless the Republicans get 100 percent of what they want, and that may include getting rid of Obamacare, which is a total disaster, then they should not make a deal other than a minor extension, which would take you before the election, which would assure that Obama doesn't get elected, which would be a great thing."
And despite Brian Kilmeade warning Trump polls indicate that if the debt ceiling isn't raised, most Americans blame Republicans and not Obama, Trump's response was to ignore such a prediction. "When it comes time to default, they're not going to remember any of the Republican's names, they're going to remember in history books one name and that's Obama," Trump claimed. Trump is familiar with high-stakes negotiations, yet Trump's tone here suggested that his interest in seeing Obama not get a "grand deal" is not just business, but might be a bit personal too.
Watch the clip from Fox News below:

Have a tip we should know? [email protected]