Twitter Asks if Trump Fired Tillerson Over Russia Comments: 'NEVER Blame Putin'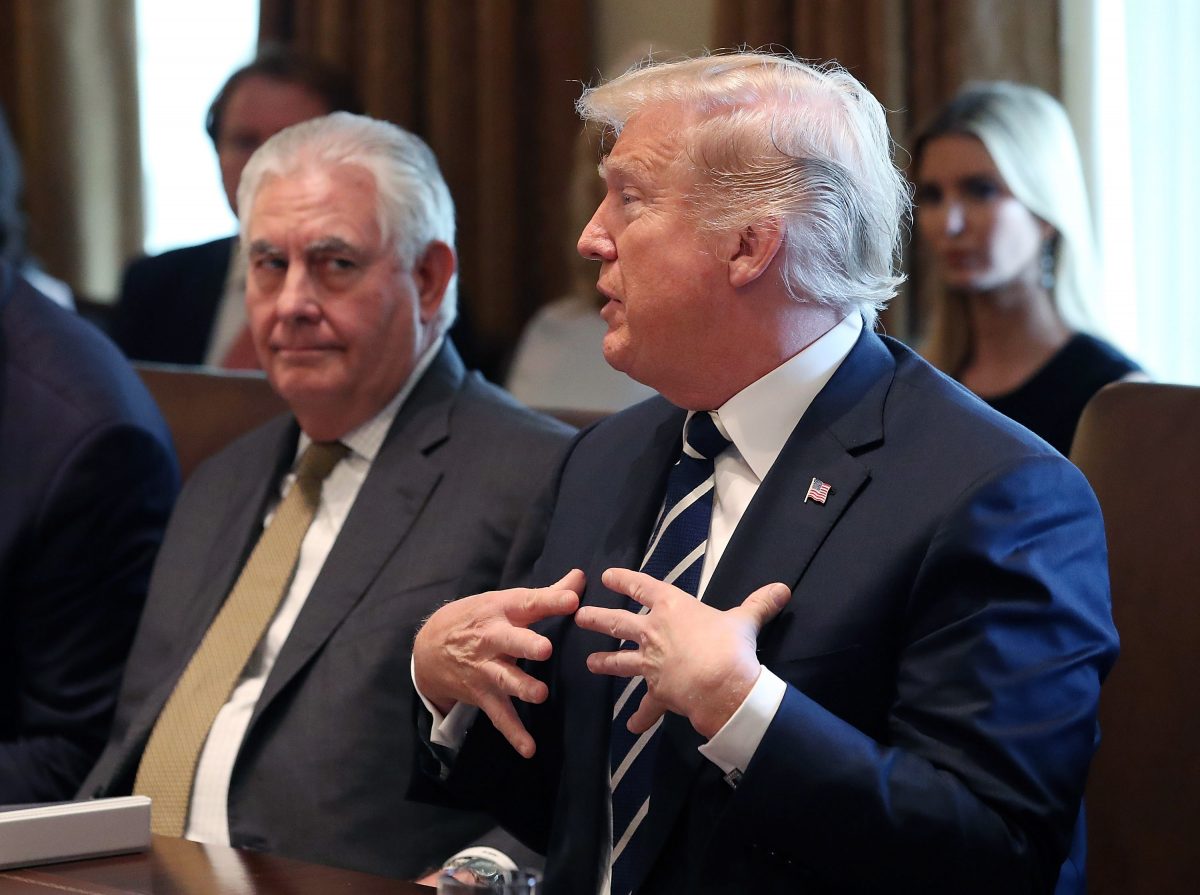 The Beltway was rocked, Tuesday morning, with the stunning news — first reported by the Washington Post and later confirmed by President Donald Trump on Twitter — that Secretary of State Rex Tillerson is out as the nation's top diplomat.
Mike Pompeo, Director of the CIA, will become our new Secretary of State. He will do a fantastic job! Thank you to Rex Tillerson for his service! Gina Haspel will become the new Director of the CIA, and the first woman so chosen. Congratulations to all!

— Donald J. Trump (@realDonaldTrump) March 13, 2018
Twitter absolutely lit up over the shocking news — with many pointing out that Tillerson went much further in condemning Russia than the White House did Monday over a chemical attack in the U.K. on a former Russian spy.
While the Post reported that Tillerson was asked on Friday to step aside, many have questioned the timing of the announcement coming the morning after his condemnations of Russia.
The AP's Josh Lederman tweeted:
We got off the plane with Tillerson less than four hours ago. There was zero indication on flight home that this was imminent.

— Josh Lederman (@joshledermanAP) March 13, 2018
Here's a sampling of the social media reaction.
"Oh, Rex, one more thing on your way out the door. NEVER blame Putin. Goodbye." https://t.co/YD94VsCiNV

— David Frum (@davidfrum) March 13, 2018
Less than 24 hours after the Secretary of State said Russia was behind the attack in London and the White House press secretary would not go that far, the Secretary of State finds himself out of work. Not good.

— Erick Erickson (@EWErickson) March 13, 2018
To be clear, Tillerson has been on the way out for a while. But timing sure is curious.

— Jonathan Cohn (@CitizenCohn) March 13, 2018
"From Ukraine to Syria — and now the UK — Russia continues to be an irresponsible force of instability in the world."
Rex Tillerson, yesterday.
Gone today.

— Bill Weir (@BillWeirCNN) March 13, 2018
Rex Tillerson, recipient of the Russian Order of Friendship, canned by Trump for being too tough on Russia.

— Jason Kander (@JasonKander) March 13, 2018
Only hours after Rex Tillerson gives @BorisJohnson strong US support for the UK's position against Russia over the Salisbury attack, he is sacked by @realDonaldTrump. What is the US position now?

— James Landale (@BBCJLandale) March 13, 2018
[photo via Getty Images]
——
Follow Joe DePaolo (@joe_depaolo) on Twitter
Have a tip we should know? tips@mediaite.com
Joe DePaolo - Senior Editor