Corey Lewandowski Promises Meetings with Trump Officials to Foreign Clients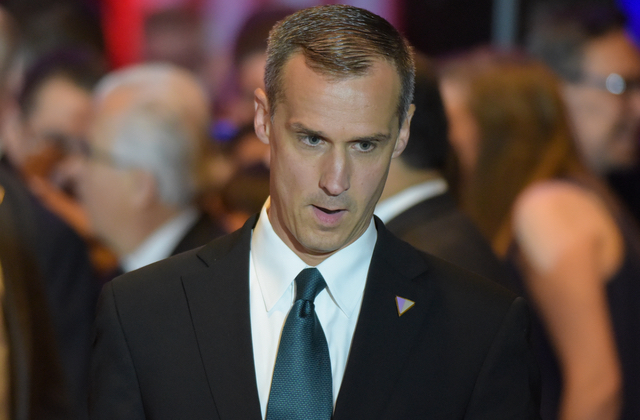 Corey Lewandowski —  who last month set up a super PAC to "drain the swamp" in Washington — is promising foreign clients face-to-face meetings with President Donald Trump, VP Mike Pence and other high level White House officials.
According to a Politico report, Lewandowski recently cofounded Washington East West Political Strategies, a consulting firm pitching its services to clients in Europe:
A document provided to an Eastern European politician by an international consulting firm that Lewandowski co-founded this year promises to arrange "meetings with well-established figures," including Trump, Pence, "key members of the U.S. Administration" and outside Trump allies.

The Washington East West Political Strategies document boasts that its clients will benefit from its partners' ability to "leverage" their "trusted relations with the U.S. Administration," as well as European parliamentarians and leading Western journalists.
Lewandowski established a previous lobby.. err consulting firm Avenue Strategies following the 2016 election, with offices a block from the White House, promising results based on the former Trump campaign manager's connections to the administration.
It's a far cry from Trump's "drain the swamp" rhetoric on the campaign trail and promises to clear Washington of special interests.
While Lewandowski vociferously denies Avenue Strategies is a lobbying firm — noting he is not formally registered as a lobbyist — Politico reports that firm's pitch relies heavily on his connections to his former boss:
People who are familiar with Lewandowski's pitch to potential clients say he has pledged that he would personally call Trump or his cabinet members if necessary on behalf of prospective Avenue Strategies' clients.

White House officials worry that Lewandowski's efforts to market his access — which are brazen even by K Street's unbashful standards — are an influence-peddling scandal waiting to happen for a President who pledged to end the dominance of lobbyists and special interests in Washington.
In March, Lewandowski's Great America Agenda PAC sent a out fundraising email asking for money "to help President Trump 'drain the swamp' and get America moving again."
Apparently he sees little contradiction between draining the swamp and lobbying foreign clients by promising access to the president.
[image via Shuttstock]
Have a tip we should know? tips@mediaite.com
Aidan McLaughlin - Editor in Chief