Michelle Malkin: James O'Keefe's Book Should Be Assigned Reading 'In Every J-School'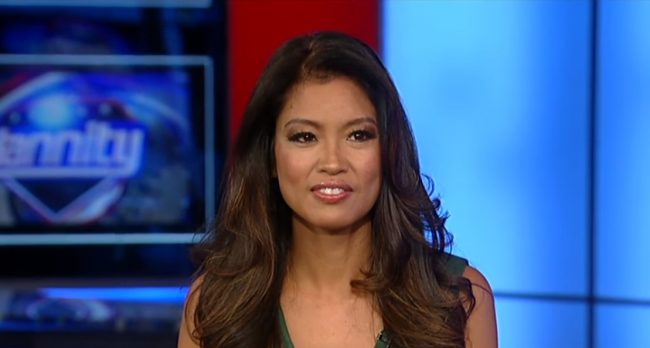 Conservative pundit Michelle Malkin apparently believes that every journalism school in America should teach their students how to dress up like Osama bin Laden, how to lure a "hot blonde" CNN reporter onto a boat filled with dildos, and how to pay a woman to pose as a rape victim in an attempt to debunk credible sexual misconduct allegations.
Malkin made the suggestion while speaking at a launch party for James O'Keefe's new book at the National Press Club in Washington, D.C., as she demanded colleges start using American Pravda: My Fight for Truth in the Era of Fake News as a textbook.
Incidentally, the "journalist" that Malkin is lionizing is best known for the all the aforementioned screw-ups.
"I would pretty much crawl over broken glass to do anything that James O'Keefe asked me to do, because he is in my view one of the most important figures in modern American journalism," the CRTV host said in the opening lines of her speech.
While on a tangent about her firm belief in the quality O'Keefe's work, Malkin declared: "His book…should be assigned in every j-school in America."
If you're wondering why any aspiring journalist would need to learn how to dress up as a terrorist and cross the Rio Grande river — which O'Keefe proudly touts as one of his chief "muckraking" accomplishments — then you're out of luck because Malkin didn't make it entirely clear. However, in what a sane person might deem an exaggeration, she did claim "j-school is one of the worst scourges in American public life."
Malkin continued her rant against higher education with the following:
"The most important act that James O'Keefe has committed has been the gathering of an incredible group of citizen journalists who have smashed 'the club.' … The problem with the Beltway media and the J-School minted media is they think they're the only ones who get define who is a journalist."
Continuing the theme of sounding like an angsty teen facing a lifetime of rejection, Malkin went on to say her admiration for O'Keefe stems from the fact that he wants "to smash the club" of establishment media that they aren't a part of.
Like any good conservative media critic, Malkin then furiously lambasted Cosmopolitan magazine for focusing too much on "smut and sex position tips" and not enough on hard-hitting investigative pieces .
Sex tips aside, all hope is not lost in American journalism, Malkin explained: "What James and his team are doing is restoring the greatness of American investigative journalism."
Not to be outdone, O'Keefe then took the stage and compared himself to actual investigative legend and author of The Jungle Upton Sinclair, who he said was also "hated in his day."
Additionally, he attacked the "vulgar and silly" media for calling him out in late 2017 when he paid a woman to pretend to be a rape victim in a botched attempt at debunking the allegations against GOP Senate candidate Roy Moore.
He finished by praising his own book, saying, "There's tragedy, there's comedy, there's irony. It's an amazing book, you should all read it."
Pizzagate conspiracy theorist Jack Posobiec was also in attendance and told Mediaite that he was a fan of O'Keefe's work. "I think it's [the O'Keefe book] great," he said. Breitbart's Matt Boyle, Gateway Pundit's Lucian Wintrich, and Mike Cernovich-associated blogger Jane Ruby all made an appearance at the book launch as well.
[image via screengrab]
Follow the author on Twitter (@calebecarma).
Have a tip we should know? tips@mediaite.com