Rivera: Biden Was 'Rude,' 'Toothy,' 'Overdramatic,' But It Won't Matter Because 'It's Joe Biden'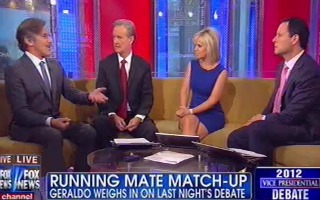 Geraldo Rivera joined Fox & Friends on Friday to share his thoughts on Thursday night's vice presidential debate. Rivera had an overall favorable impression of the job that Vice President Joe Biden did last night and thought that Rep. Paul Ryan had a few missed moments. He also said that, while Biden was visibly "rude" during his debate with Ryan, but it won't affect how people remember this debate because "It's Joe Biden."

RELATED: Chris Wallace Shocked By Biden's 'Disrespectful,' 'Openly Contemptuous' Debate Treatment Of Ryan
Overall, Rivera said that Biden had a job to do at the debate, and that was to reassure nervous Democrats that their ticket can still win debates against Republicans. He said Biden accomplished that goal.
"I think that Joe Biden performed a valuable function for the Democrats," said Rivera. He said that the vice president may have stopped President Barack Obama's "free-fall" in the polls following his debate performance last week. However, Rivera said that Biden's performance was a little over the top.
"He was so rude. He was so toothy. He so overdramatic. He was rolling his eyes," said Rivera. "But, on the other hand, you know, it's Joe Biden. And where other people might be held to task for that, he's like the old shoes you just can't throw out after four years."
Gretchen Carlson vehemently disagreed, saying that Biden's reactions to Ryan speaking will not go over well – particularly with women voters.
"I thought the most interesting thing was the abortion discussion," said Rivera. "I think that brining up abortion and abortion rights in the way Joe Biden did, he made a stark contrast." Rivera said that Biden may have made some gains among women voters because of how he handled that issue during the debate.
As the conversation pivoted to the unfolding scandal of the handling of the Benghazi attack, Rivera said that Ryan had the advantage on that issue but he did not press Biden on the specifics and "let him off the ropes."
"That was the one substantive issue where I thought the Congressman dropped the ball," said Rivera.
Watch the clip below via Fox News Channel:
> >Follow Noah Rothman (@Noah_C_Rothman) on Twitter
Have a tip we should know? tips@mediaite.com