Trump Calls on Mitt Romney to 'Be a Team Player' in Response to Scathing Op-Ed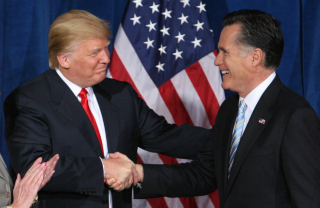 President Donald Trump responded to Senator-elect Mitt Romney's scathing op-ed published in the Washington Post on Tuesday just days before being sworn in as Senator of Utah.
The column is titled "The president shapes the public character of the nation. Trump's character falls short," before opening with the claim that  "The Trump presidency made a deep descent in December."
Romney's surprising rebuke of the Commander-in-Chief predictably became morning show fodder, and President Trump reacted in a surprisingly muted manner considering his "hit back ten times harder" past. Trump tweeted:
Here we go with Mitt Romney, but so fast! Question will be, is he a Flake? I hope not. Would much prefer that Mitt focus on Border Security and so many other things where he can be helpful. I won big, and he didn't. He should be happy for all Republicans. Be a TEAM player & WIN!

— Donald J. Trump (@realDonaldTrump) January 2, 2019
Romney's column read "The departures of Defense Secretary Jim Mattis and White House Chief of Staff John F. Kelly, the appointment of senior persons of lesser experience, the abandonment of allies who fight beside us, and the president's thoughtless claim that America has long been a 'sucker' in world affairs all defined his presidency down."
"With the nation so divided, resentful and angry, presidential leadership in qualities of character is indispensable. And it is in this province where the incumbent's shortfall has been most glaring," the incoming Junior Senator of Utah wrote.
Notable that Trump's rebuke took a comparatively gentle tone, perhaps because he recognizes the need to have Romney as a political ally in the last two years of this term of his presidency.
Have a tip we should know? tips@mediaite.com