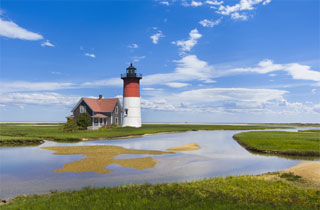 Three Afghan soldiers training at Camp Edwards were reported missing and are believed to be somewhere in Cape Cod, a peninsula so cute and adorable that even their gay resort is described as a "quaint fishing village".
According to Boston.com, Maj. Jan Mohammad Arash, Capt. Mohammad Nasir Askarzada, and Capt. Noorullah Aminyar went missing after going on a chaperoned trip to the Cape Cod Mall in Hyannis, Mass., where they were probably abducted at Teavana by Vineyard Vines-wearing sailboat extremists. (Okay, probably not.)
The three men were taking part in a Regional Cooperation training exercise at Camp Edwards, and state and local law enforcement have been alerted to their absence. While photos have not been officially released of the three men, a spokesman told Boston.com that their visas — similar to tourist visas — still allowed them to be in the United States. "We invited them to the country, they're allowed to be here," they said.
While it's not the first time that Afghanistan National Army members have suddenly disappeared from American bases, it's probably the only time that they've ever done it on Cape Cod, which seriously makes us believe that they were abducted and forced to fly kites on Nantucket while wearing artfully faded red pants.
Massachusetts is adorable.
UPDATE — 1:00 p.m. ET: Governor Deval Patrick today called a press conference to address the missing officials:
"There's a lot of speculation within the military that they may be trying to defect," he said. Pressed if there appears to be truth to that, Patrick said, "It's just speculation. That's why I called it speculation."

"I don't have a reason to think that they pose a threat," he later added. "They were vetted by the military, they were cleared by the military in coming here. I'm not going to jump to conclusions."
Well, when you put it that way, Cape Cod >>>> Afghanistan, any day of the week. They have ice cream!
UPDATE — 2:43 p.m. ET: Aaaaaand they've been found. Watch the report below, via Fox:
[h/t Slate]
[Image via Shutterstock]
—
>> Follow Tina Nguyen (@Tina_Nguyen) on Twitter
Have a tip we should know? tips@mediaite.com