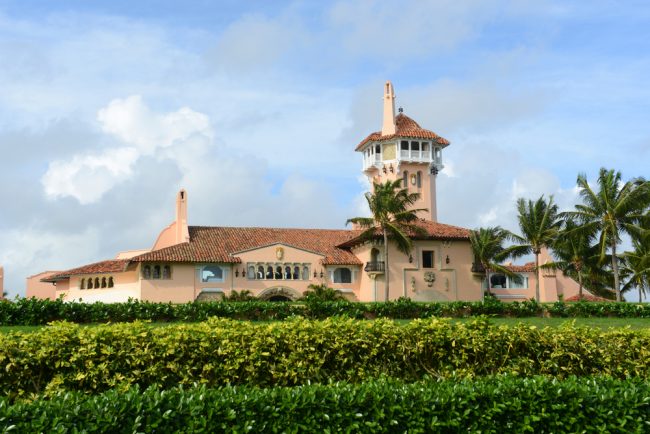 The United States embassy in the U.K. now includes a history of President Donald Trump's Mar-a-Lago estate on its official website, raising new concerns over the president's conflicts of interest.
A blog posted on April 5––getting renewed attention online today––details the history of the Trump-owned Mar-a-Lago resort in Florida, and even refers to the estate as the "Winter White House":
Trump is not the first president to have access to Mar-a-Lago as a Florida retreat, but he is the first one to use it. By visiting this "winter White House," Trump is belatedly fulfilling the dream of Mar-a-Lago's original owner and designer.
The blog post links to another article on ShareAmerica, a State Department website, which includes a longer history of Mar-a-Lago.
An official government website promoting the private members club, which costs $200,000 to join, again raises concerns that Trump is using the presidency to enrich himself.
Membership fees to the club doubled after Trump was elected president, and Trump frequently visits the resort, as noted by the ShareAmerica article:
Trump regularly works out of the house he maintains at Mar-a-Lago and uses the club to host foreign dignitaries. (In February, Japan's Prime Minister Shinzo Abe and his wife, Akie, visited.)
Sen. Ron Wyden (D-OR) summed up the controversy with a tweet:
Yes, I am curious @StateDept. Why are taxpayer $$ promoting the President's private country club? pic.twitter.com/IlPhUlvMwa

— Ron Wyden (@RonWyden) April 24, 2017
[image via Shutterstock.com]
UPDATE – Tuesday 1:38 p.m.: The State Department has removed the Mar-a-Lago blog post from ShareAmerica and its Embassy websites. A short message is now displayed on the ShareAmerica Mar-a-Lago page:
The intention of the article was to inform the public about where the president has been hosting world leaders. We regret any misperception and have removed the post.
Have a tip we should know? [email protected]
Aidan McLaughlin - Editor in Chief