Alec Baldwin Addresses Twitter Rant: I Didn't Mean 'Queen' In A Sexual Way, Andrew Sullivan 'Not Very Smart'
Baldwin Addresses Twitter Rant: I Didn't Mean 'Queen' In A Sexual Way, Andrew Sullivan 'Not Very Smart'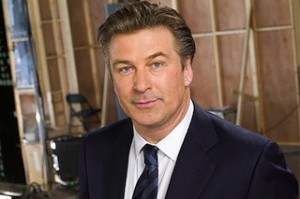 Last night, actor Alec Baldwin went off the reservation a little, launching into a Twitter tirade against a reporter who wrote a story about his wife tweeting in the middle of James Gandolfini's funeral. Baldwin lashed out at George Stark, referred to him as a "queen" and a "bitch," and Gay blogger Andrew Sullivan unloaded on Baldwin earlier today for his "hate speech," and now Baldwin is responding to the criticism. He says in a Gothamist interview that Sullivan's criticism was "not very smart," because when he used the word "queen," he was not referring to it a sexual context.
Baldwin announced that he has zero intention of returning to Twitter, insisted that he has no intention of apologizing "for defending my wife," and attempted to explain why his usage of the words "queen" and "bitch" were not anti-gay slurs.
[T]he idea of me calling this guy a "queen" and that being something that people thought is homophobic…a queen to me has a different meaning. It's somebody who's just above. It doesn't have any necessarily sexual connotations. To me a queen… I know women that act queeny, I know men that are straight that act queeny, and I know gay men that act queeny. It doesn't have to be a definite sexual connotation, or a homophobic connotation. To me those are people who think the rules don't apply to them. This guy could blatantly lie, I mean blatantly lie about my wife on the internet and there are just no rules that apply to him, but that's outrageous to me.
Okay, so: queen (n.)- person who doesn't think rules apply to them, as in the sentence, "I'm gonna find you, George Stark, you toxic little queen, and I'm gonna fuck…you…up."
Baldwin spouts off a lot about Gandolfini and Twitter and getting hated on by conservatives. He finds it "laughable" that anyone would think he has an issue with gay people, considering his politics and his decision to live in New York, and even predicts that next people will start calling him an anti-semite.
Andrew Sullivan argued in his blog post that just because Baldwin is pro-gay doesn't mean he shouldn't be held accountable for the things he says, even going so far as to call what Baldwin did a "crime." Baldwin was asked about this particular criticism, and after insisting he has "no problem whatsoever with anything that Andrew Sullivan says," made this harsh assertion.
[I]f Sullivan's saying I'm guilty of a prosecutable offense, if he reads into what I said and sees that I was calling on someone to do this because he was gay, I feel sorry for someone. He's not very smart if that's what he said. He's obviously not very cautious. He's obviously emotionalizing the issue and wanting to kind of score some points for himself. It's kind of a shame that he wants to go to that extreme.
CNN's Anderson Cooper also weighed in on Twitter, asking, "Why does Alec Baldwin get a pass when he uses gay slurs? If a conservative talked of beating up a "queen" they would be vilified."
UPDATE: Baldwin also issued a statement to GLAAD, which reads, in part:
"My ill-advised attack on George Stark of the Daily Mail had absolutely nothing to do with issues of anyone's sexual orientation. My anger was directed at Mr. Stark for blatantly lying and disseminating libelous information about my wife and her conduct at our friend's funeral service. As someone who fights against homophobia, I apologize."
—–
Follow Josh Feldman on Twitter: @feldmaniac
Have a tip we should know? tips@mediaite.com
Josh Feldman - Senior Editor