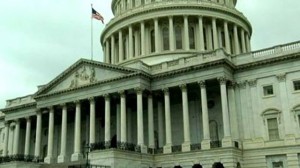 American's approval of the job Congress is doing has languished in the high teens, depending on the poll, for months. Gallup has shown that Congressional approval reached 24 percent in May of 2011, but collapsed as the Republican House and President Barack Obama scuffled over a deal to raise the debt ceiling. Those days are over, however, as Gallup released a poll today that showed the public's opinion of Congress has rebounded to a stellar 21 percent – the highest rating in 17 months.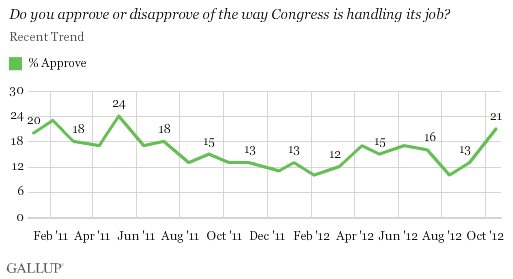 The bounce in the public's approval of the job Congress is doing is even more impressive when taking recent polling results into account. In September, Congress enjoyed a 13 percent approval rating.
Gallup's Jeffrey M. Jones notes that this remains a strikingly low approval rating for any public institution. What is unique about Congress' relatively low approval rating is the fact that it does not appear to be foreshadowing a major move by voters to oust incumbent Members.
Historically, lower congressional approval ratings — typically those below 30% — have been associated with more turnover of seats by party in Congress, as voters take out their frustrations with the institution by changing its membership. The losses typically occur for the president's party. This relationship holds in both presidential and midterm election years, but is stronger in midterm years. The largest changes in party seats in a presidential election year occurred in 1980 (34 seats when Congress' approval was 25%) and 2008 (23 seats with approval at 18%). There have been larger seat changes in midterm election years, including 1974, 1994, and 2010.
Read the full report via Gallup
> >Follow Noah Rothman (@Noah_C_Rothman) on Twitter
Have a tip we should know? tips@mediaite.com