Are Roland Martin and Donna Brazile Getting Off Easy On Their CNN/TV One Town Hall Scandal?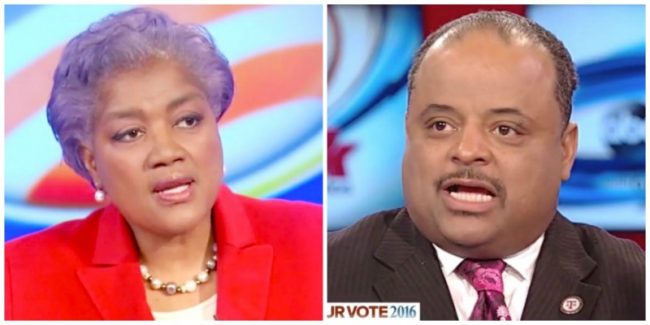 Last Sunday's morning talk show circuit saw some old wounds opened during a Twitter haggle between TV One host Roland Martin and CNN's Jake Tapper. After Martin hit Tapper for stating President Donald Trump made a "false claim" rather than using the word "lie" during an interview with Treasure Secretary Steve Mnuchin, the State of the Union host tweeted out that he wasn't in the mood to be lectured on journalism by the TV One star, especially considering that Martin has never given a "full accounting" on how questions from a 2016 Democratic town hall made their way into the Clinton campaign's email box.
I'm really not in a place to be lectured by @rolandsmartin on journalism. And certainly not until he and TV One give a full accounting for how their town hall questions "ended up" in the Clinton campaign's inbox. Public has a right to know. https://t.co/pFBE2bc9Om

— Jake Tapper (@jaketapper) November 12, 2017
Now, this led to a tweetstorm from Martin in which he tossed a whole bunch of stuff at the wall, but never actually answered Tapper's question. Instead, he said he addressed it already while demanding answers from the CNN host for a list of other grievances he had with the network. In the end, he told Tapper to go see what he said on TV One in response and that he didn't serve Tapper; basically, the State of the Union anchor would need to search out Martin's on-air comments on the matter.
Mediaite covered the whole online battle. And when this author updated the final post with Tapper's response to Martin — the CNN star pointed out that Martin never answered his query about the town hall question leak — I received a message from the TV One host telling me that he addressed the matter last November on TV One. So I went searching. And, alas, I couldn't find anything.
*** ***
Let's turn the clock back a year, shall we?
In the final weeks of a contentious, insane and unprecedented presidential election, WikiLeaks was systematically dumping hacked emails from John Podesta, Hillary Clinton's campaign chair. In October 2016, emails were published that indicated Donna Brazile had tipped off the Clinton campaign about questions that could be asked at CNN events.
One occasion involved a March 2016 CNN town hall debate between Clinton and Bernie Sanders. In an email sent on March 12 that was forwarded to Podesta, Brazile — then a CNN contributor and the vice chair of the DNC — wrote that "[f]rom time to time I get the questions in advance" in the subject line and included a question about the death penalty.
The text of that email is below:
Here's one that worries me about HRC.

DEATH PENALTY

19 states and the District of Columbia have banned the death penalty. 31 states, including Ohio, still have the death penalty. According to the National Coalition to Abolish the Death Penalty, since 1973, 156 people have been on death row and later set free. Since 1976, 1,414 people have been executed in the U.S. That's 11% of Americans who were sentenced to die, but later exonerated and freed. Should Ohio and the 30 other states join the current list and abolish the death penalty?
The following day, Martin — who was co-moderating the debate with Tapper — sent an email to CNN producers with his questions for the debate. The third question was word-for-word the one included in Brazile's email the day before. Later that evening, Clinton was asked a question on the death penalty.
Besides the email from Martin to CNN that was provided to Politico last October, WikiLeaks released an email that month that seemed to make it crystal clear that Brazile got the questions directly from him. In a March 12 reply to Clinton aide Jennifer Palmieri, who herself was replying to Brazile's forwarding of the death penalty question, Brazile wrote, "I'll send a few more. Though some questions Roland submitted."
*** ***
So, how have Brazile and Martin responded since these dots were connected? Well, with a lot of sidestepping, obfuscation and silence. In October 2016, after it was revealed Martin emailed CNN producers with his questions a day after Brazile emailed back and forth with the campaign, the TV One host told Politico the following:
"As far as consultation, I don't believe I did. I know I asked all of my social media followers for their input on what they wanted me to ask. I did the same for the Hillary Clinton town hall we did in South Carolina in 2014. And I know that I called Rep. Clyburn to lock down language on his 10-20-30 amendment. That is an issue I've pushed for several years. I also know I called other members of Congress to ask them specific questions about their various bills and their status. All of that informed my questions. That's called research," Martin wrote.
Martin, however, was mum weeks later when WikiLeaks released Brazile's reply to the campaign directly invoking Martin's name. TV One did issue a statement on November 1, 2016, that read like something a politician's office would send:
"News One Now Host and Managing Editor Roland S. Martin is one of the most trusted journalistic voices in Black America. His audience, whether on TV, radio or social media, knows that Roland will ask the tough questions they care about. As previously stated, Roland researched his questions as he always does and shared them with TV One and CNN. No personnel from TV One shared questions or information with Secretary Hillary Clinton's campaign. Since the email was neither from nor to a TV One employee, we do not have any direct knowledge of it. What we do know is no matter who is elected President, Roland Martin will demand accountability from them on matters of importance to Black America."

"Regarding the most recent story, we deem it inappropriate to comment since the issue is related to an event hosted by CNN, in which we had no connection."
And Martin has told us that he addressed this on TV One last November. But we are still waiting on evidence of that. It doesn't appear that Martin or his station have discussed it since the above statement.
As for Brazile, she has given a wide-range of responses on the matter. In early October, when the first of the hacked emails pertaining to the town hall was released, she provided the following statement:
"As a longtime political activist with deep ties to our party, I supported all of our candidates for president. I often shared my thoughts with each and every campaign, and any suggestions that indicate otherwise are simply untrue. As it pertains to the CNN Debates, I never had access to questions and would never have shared them with the candidates if I did."
Following the release of the reply invoking Martin, CNN publicly stated that Brazile had resigned weeks prior while highlighting they were "completely uncomfortable" with what was contained in all of the emails.
"CNN never gave Brazile access to any questions, prep material, attendee list, background information or meetings in advance of a town hall or debate," CNN spokeswoman Lauren Pratapas told Politico on October 31, 2016. "We are completely uncomfortable with what we have learned about her interactions with the Clinton campaign while she was a CNN contributor."
In an interview that occurred days later, Brazile — who became interim DNC chair following Debbie Wasserman Schultz's ouster after the Democratic convention — said her conscience was "very clear" and that "if I had to do it all over again, I would know a hell of a lot more about cybersecurity."
After the election, the longtime Democratic operative was all over the place with her remarks about the CNN town hall. In March of this year, she wrote an essay for TIME in which she stated: "sending those emails was a mistake I will forever regret." She also noted that her role as a "Democratic operative" was to "share potential town hall topics with the Clinton campaign."
But since then, it has been a whole different story. In her new book, Hacks: The Inside Story of the Break-ins and Breakdowns That Put Donald Trump in the White House, Brazile casts doubt that she ever sent those emails, perhaps suggesting that they were fakes inserted there by WikiLeaks to sow chaos. She wrote that she couldn't find the emails when she searched all of her inbox, adding that the subject line of the email "did not sound like me."
When asked earlier this month about that portion of her book by the Washington Examiner, she said "I could never find those so-called emails released by WikiLeaks or find anything on my laptop, desktop, or server."
In recent days, Brazile has gone on a media blitz to promote her book. And, while she has been asked about the question controversy, she has stuck with specific talking points — that she was trying to expand the debates and also ensure certain topics were covered. When pressed for specifics on whether she passed on questions, however, she has continued to muddy the waters.
Appearing on Tucker Carlson Tonight, Brazile said "that CNN never provided us with any questions" while stating that she "admitted to" ensuring that "we had these issues on the table, and I didn't want our candidates blindsided." That answer led an incredulous Carlson to laugh and exclaim, "That's the greatest spin I've ever heard!" There was further obfuscation and deflection when she showed up on The View and was asked about the debacle.
During a C-SPAN appearance this past Sunday, Brazile was again pressed by a viewer on the debate question matter. Brazile's response was similar to what she told Tucker, explaining that she was giving both candidates the heads-up about certain topics while pushing for more debates and diverse questions. Meanwhile, she said she cut ties with CNN because she "couldn't find the evidence" they were asking for regarding the emails, leading to some critical words for the network and Tapper. (She also wrote in her book how she felt "betrayed" by Tapper over his condemnation over the debate question issue.)
*** ***
So, why does any of this matter now? Despite the fact this happened over a year ago, this matter has received renewed attention due to Brazile's book release and subsequent media tour. And, in recent days, both Martin and Brazile have deflected when confronted on their own responsibility in this flap.
As noted at the beginning of this piece, the TV One host focused on lobbing allegations at Tapper and CNN when the anchor pushed him on his role in the scandal. While refusing to answer how questions got from him to the Hillary camp, Martin instead accused CNN of trying to remove from the town hall press release a plan to address black issues, and claimed that he and TV One were disrespected before the event.
As indicated above, we have reached out to Martin regarding his part in the controversy. Besides asking him for specific details on his claim that he addressed the matter on the air last November, we have also also asked if there are any other public comments or statements made by him or TV One on this issue — besides the ones already listed in this piece — that we should be made aware of. At the time of publication, we had yet to hear back from him but will update this article with his comments if he responds.
Regarding Brazile, we have also reached out to her for comment in an effort to pin down her stance on this matter. The one thing she has made clear throughout is that she did not receive any questions FROM CNN prior to the March 13 town hall. We asked her if she was willing to state whether or not she received questions from Martin or TV One prior to the town hall and if she felt it was appropriate to pass on questions to candidates prior to an event. We also noted that she seemed to provide contradictory statements between her TIME essay and book.
"I don't believe it's a contradiction to explain to the reader why [is] it difficult for me to verify the authentication of hacked, stolen emails leaked by Wikileaks to sow confusion and discord," Brazile emailed us back. "John [Podesta] has never verified the emails and what I tried to do last year was find my own original emails. Couldn't find them."
Noting that the book was written after her TIME essay, Brazile added "[I] went back to find emails or text messages or phone calls that could prove beyond what was publicly available that I did give everyone a heads up that we would address topics such as criminal justice reform, the death penalty, etc." Regarding her expressing regret over sending the emails, she told us that the "apology was in stating the obvious" and that there was no "further need to explain because it is also in the book."
When asked again if she received any questions from Martin/TV One prior to the CNN town hall and if she believed it was OK to share debate questions with candidates prior to events, Brazile said that the "information is all in the book" and what's "not included are the emails that I found on the pressure that I was under to add more debates, town halls, and more." In a follow-up phone call, Brazile reiterated that she addressed the entire matter in her book and that it explains everything in full context.
If we hear back from Martin and Brazile with any further explanations or remarks regarding this matter, we will make sure to update this post with their comments.
[image via screengrab]
—
Follow Justin Baragona on Twitter: @justinbaragona
Have a tip we should know? [email protected]