'Barbie Girl' Parody From Progressive Group Mocks Mitt Romney For Tax Shelters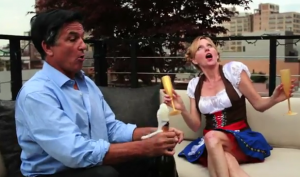 Remember Obama Girl? Well, now Mitt Romney has his own version, except this one may not be so kind to the Republican candidate. A new video out from the progressive group Agenda Project Action Fund uploaded a "Barbie Girl" parody video to YouTube featuring an actor as Mitt Romney and "Miss Swiss Bank Account," the Romney girl.
RELATED: Here's The Conservative Parody Of Gotye You Were Asking For: 'Some Justice That I Used To Know'
The "Romney Girl" song features lyrics like "Life is taxless. It's fantastic" and "Outsource nation, Bain is his creation." The video shows both Romney and Miss Swiss indulging in unbelievably stereotypical behaviors of rich people.
The website the Agenda Project Action Fund created goes as far as to claim that Romney Girl is Harry Reid's source for his claim that Romney has not paid taxes in ten years.
[S]he bumped into Senate Majority Leader Harry Reid while burning book his "The Good Fight" during a local sheep-shearing festival. Miss Swiss told Senator Reid about Mr. Romney's tax avoidance "because I thought it was so funny that a Senator would actually think that rich people pay taxes! So silly!"
One thing I can't help but wonder as I watch this video: was "Barbie Girl" really the best choice of parody song? That hasn't been a thing since the 90s. At least the viral video out this week mocking President Obama uses a more recent song.
Watch the video below:
h/t The Hill
—–
Follow Josh Feldman on Twitter: @feldmaniac
Have a tip we should know? [email protected]
Josh Feldman - Senior Editor