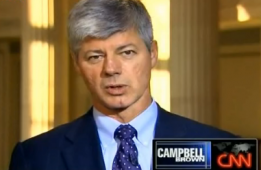 Will Washington survive this weekend's health care vote? (And if it didn't would that be the worst thing ever?) NPR's Morning Edition has been packed with stories this morning about the pressure the Dems are under to pull together enough Yes votes for this Sunday's epic Health Care vote. Double that for Bart Stupak who is holding on to his No vote come hell or highwater. No Air Force One rides will sway him! Or will they?
Last night Stupak told Campbell Brown that his life was "a living hell" as a result of his no vote (also, probably in no small part to Rachel Maddow), and that he has to 'unplug all his phones at night," but that he also had no intention of making a deal. (Video below). However this morning Stupak talked to George Stephanopoulos who appeared to see a tiny glimmer of light and speculated Stupak may be ready to deal: "That was my impression after interviewing him on GMA this morning. Yes, he said, "I'm still a no." But he also confirmed that there are lots of discussions going on to see if his group of anti-abortion Democrats to vote yes."
Which causes one to wonder whether Sunday's entire health care vote, something many people have suggested President Obama's entire presidency is hanging on, may actually come down to abortion rights, after all. Oh to be a fly on the wall of the of this Saturday night's backroom dealing. Video of Stupak's GMA interview below.



Have a tip we should know? tips@mediaite.com