Because You Didn't Ask: Louisiana Gov. Bobby Jindal Releases Birth Certificate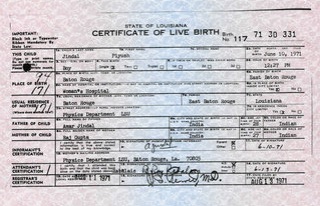 Where has Louisiana governor Bobby Jindal been all week? President Obama's birth certificate finally retired as a meme last week as the President released the long-form version and rebooted the news cycle with news of Osama Bin Laden's death. After the "birthers" hijacked the public consciousness for a good month, no one even knows who Donald Trump is anymore, and yet Jindal chose yesterday to release his birth certificate to make a point.
Jindal's spokesman told the Times-Picayune that he released the certificate as a preemptive strike should his name be in the running as a 2012 vice presidential candidate (Jindal's name was tossed around as a presidential candidate against Obama in 2008). Jindal had, to much criticism, expressed tepid support for a Louisiana legislature bill that would require the showing of birth certificates, and noted that he perceived his status as the son of immigrants could turn into a problem if he did not clarify the issue before it blossomed into a campaign problem.
While it may seem on a national scale that Gov. Jindal is very, very late on releasing this if he was trying to catch the political tide, the state climate in Louisiana continues to be the sort that proves favorable for legislation making it more difficult to prove citizenship and office eligibility. Much of that has to do with the fact that Louisianans have remarkably not yet arrested and/or otherwise ejected problematic Sen. David Vitter from public life, and the Senator, who Jindal did not endorse in the 2010 elections despite being the head of the state's party, is sponsoring his own bill to keep questionable sorts out of the top office:
"My bill limits birthright citizenship to individuals born in the United States with at least one parent who is a legal citizen, a green card holder or an active member of the U.S. armed forces," said Vitter in introducing his legislation on the Senate floor last month.

Were it to become law, Vitter's bill would not be retroactive, and even if it were, or if it had been the law when Jindal was born, the future governor would have been eligible for birthright citizenship because his parents had green cards, giving them the status of permanent legal residents.
While the bill wouldn't affect Jindal at all, it seems he would rather be safe than sorry on the birth certificate front. And given these past three years of birther madness, who can really blame him? His full certificate below: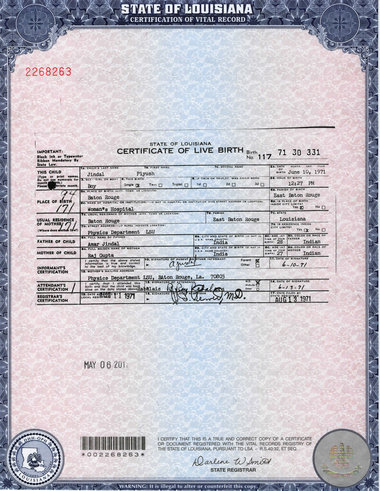 Have a tip we should know? tips@mediaite.com