Bengha-Zzzz: Hillary Clinton's Approval Rating Ticked Up A Point During Benghazi Hearings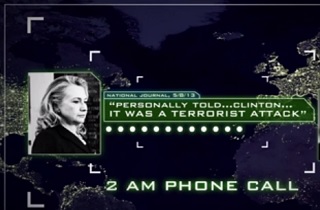 On Monday, we reported on a poll which indicated that many of the people who are most spun up about Benghazi, as a scandal, don't even know where it is. That poll also showed that former Secretary of State Hillary Clinton's net favorability hadn't changed since since March, indicating that efforts to tar her were apparently not working. A poll by the same company, Public Policy Polling, was just released today, and shows that, in the period from just before last week's Benghazi hearing and just after, Hillary's approval number actually ticked up a point, from 51% to 52%.
The poll that came out today was actually taken May 6-9, before the Benghazi poll, and shows that 51% of voters favorable toward Hillary, versus 43% unfavorable. In the poll that was released Monday, but taken May 10-12, Clinton's favorability ticked up to 52%, versus 44% unfavorable.
Today's poll also showed Secretary Clinton maintaining her huge lead among the 2016 Democratic field, and widening her general election lead against GOP favorites Sen. Rand Paul (R-KY) and Sen. Marco Rubio (R-FL), and leading Gov. Chris Christie (R-NJ) by 47% to 44%, one percent tighter than in the last poll. Despite the fact that Republican groups have been running Benghazi attack ads against Hillary, she continues to dominate the 2016 field.
Republican voters, meanwhile, remain divided between moderates like Jeb Bush (R-FL) and Chris Christie, and base favorites like Rand Paul and Marco Rubio, but Rubio has slipped a little. From PPP:
It's now been almost 6 months since we started doing regular polling of the 2016 race. The only candidate who's shown any real momentum over that period of time is Paul,
whose support has doubled from 7% to 14%. Rubio's shift from 18% to 16%, Bush's from 12% to 15%, and Christie's from 14 to 15% are all within the margin of error. It is worth noting though that this is the first time Rubio hasn't held at least a 4 point lead over the other Republican contenders.
Vice President Joe Biden, meanwhile, continues to beat every Republican but Chris Christie in head-to-head polling, but Hillary and Chris Christie are the only candidates in PPP's poll with net favorable approval ratings. Freshman Sen. Elizabeth Warren (D-MA), though, is even at 24% favorable, 24% unfavorable.
Have a tip we should know? tips@mediaite.com