Biden Hits Romney On Debate Performance: He Was 'Rushing To Agree' With Obama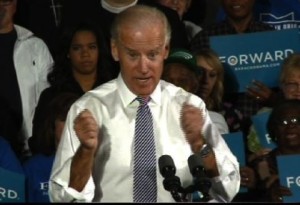 Vice President Joe Biden went on the offense against Mitt Romney on the campaign trail today, saying that the Republican candidate was "rushing to agree" with the president during the third and final presidential debate last night. Biden admitted he was "stunned" to find out that Romney has so much in common with President Obama, and attacked him for promoting a wildly "inconsistent" campaign message.
RELATED: Disappointed O'Reilly Slams Mitt: 'Romney Didn't Do Anything, Nothing'
During last night's debate, Romney said a number of times that he agrees with Obama's policies on several key foreign policy issues. This prompted Biden to mock the Republican presidential candidate for suddenly finding so much common ground between the two of them in their big foreign policy debate.
"Last night you saw Gov. Romney rushing to agree with President Obama…"

The vice president said he was "stunned and pleased that Gov. Romney had disavowed so many things he's said in the past and acknowledged that the president was right on so many things."

"Some days they go out there and rattle the sabers, some days they are doves carrying olive branches," he added. "The only thing consistent … about the way they talk about policy is that they are inconsistent."
Perhaps the most concise summation of the surprise bipartisan agreements last night came from Glenn Beck, who tweeted, "I am glad to know that mitt agrees with Obama so much. No, really. Why vote?"
h/t NBC News
—–
Follow Josh Feldman on Twitter: @feldmaniac
Have a tip we should know? tips@mediaite.com
Josh Feldman - Senior Editor