Bill Maher Slams GOP Pundits, Office Holders In 'The Rise Of The Party Of The Apes'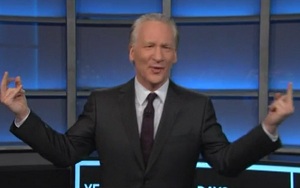 On Monday, HBO's host of Real Time, Bill Maher, took to his blog where he called the Republican party "the party of apes." In his latest blog post, Maher slammed GOP representatives and pundits in his latest column and revealed why he will not have conservative opinion leaders like George Will and Peggy Noonan on his program.

RELATED: NY Times Buries The Lede: Anderson Cooper's Ratings Surge At 8PM
In his latest blog post, Maher analyzed the findings of a much-discussed book by Thomas Mann and Norman Ornstein, who allege that the modern Republican party's intransigence is responsible for much of the country's legislative woes.
In the post, Maher took shots at Republican politicians as well as center-right pundits, including GOP nominee for Senate in Indiana Richard Mourdock and Florida Rep. Allen West.
[T]his is why you never see us booking George Will and Peggy Noonan on my show (besides the fact that they wouldn't do it): Because the same old Washington pundits haven't said anything interesting since disco. Also because the idea that the blame for our government's dysfunction is equally shared by the parties just is a giant, steaming mound of horseshit and anyone who has paid attention to politics over the last 20 years knows it. Or as I like to call it, "The Rise of the Party of the Apes."
Maher praised Indiana Sen. Dick Lugar who lost his party's nomination for another term in the Senate last month. He also attacked his likely successor, Indiana state Treasurer Richard Mourdock:
And after Mourdock won he said this about working with the other side: "I certainly think bipartisanship ought to consist of Democrats coming to the Republican point of view." Which is sort of like saying to your girlfriend, "I think both our sexual needs will best be fulfilled by you blowing me."
Maher also slammed West for saying recently saying that the Congress was populated by "78 to 81" communists.
And not one Republican said, "Allen, come on. You're making us look dumb." Not one of the Republican candidates for president said anything. Because in today's Republican Party, that's not even edgy anymore. They probably saw him later on and were like, "Word, Allen. Word." Because that's how they think black people talk.
h/t Politico
> >Follow Noah Rothman (@Noah_C_Rothman)on Twitter
Have a tip we should know? tips@mediaite.com