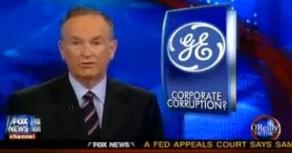 In a "Factor Follow-up" segment last night on The O'Reilly Factor, Bill O'Reilly slammed GE and its Chairman Jeffrey Immelt, with the help of two guests.
But while GE and Immelt have been a favorite target of O'Reilly's in the past, the attacks have been down over the last year. So where did this one come from?
What it could be is a response to this low blow from Keith Olbermann last week regarding O'Reilly's past abuse at the hands of his father. It would make sense given the history of the feud – when Olbermann attacks O'Reilly particularly harshly, O'Reilly has instead set his sights far above the MSNBC host and slammed either NBCU Chairman Jeff Zucker or Immelt and GE. And considering this "Factor Follow-up" relates to a story that hasn't been touched on during The O'Reilly Factor in more than two months (according to TV Eyes), that makes the most sense.
It was this time last year that talk of some sort of truce between GE/NBC and Fox was in the works – and also this time last year that it became clear any semblance of a truce was an impossibility (with Olbermann continuing his regular attacks). One year later, this is the sort of slam – from the most-watched cable news host – that could reignite the feud.
As for the content, Nile Gardner of the Heritage Foundation was on to talk about the Oil-for-Food scandal. "The fact that GE, a huge American company, a household name, was involved in the scandal is hugely shameful for GE, and I think a tremendous embarrassment for the corporation," he said. (Interesting, O'Reilly played a bit of devil's advocate, saying "it's hard for me to basically get outraged about it" since GE was just one of thousands of companies involved.)
Tom Borelli, director of "The Free Enterprise Project" described a pattern of corruption with the company, saying it's something "we all have to be concerned about."
Later, O'Reilly noted GE is "very close to the Obama administration" – probably the most effective slam as far as his viewership is concerned. This segment comes on the heels of an interesting CJR profile that implies O'Reilly (and by extension, Fox News) wielded some level of control over Comcast a couple years ago. Comcast, of course, is set to take a majority stake in NBCU shortly.
Here's the full segment:

—–
» Follow Steve Krakauer on Twitter
Have a tip we should know? tips@mediaite.com