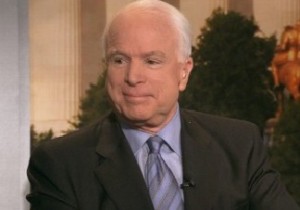 Need more evidence that President Obama's State of the Union speech was an effort to effectively move to the center? Then please watch the following interview from Good Morning America in which Senator John McCain openly praises many of the president's policies outlined last night, during an interview with George Stephanopoulos. Obama's pledge towards reducing the corporate tax rate, free trade and medical malpractice reform seemed to please the Republican Senator from Arizona.
Writing on his blog "George's Bottom Line" Stephanopoulos reports:
Reducing the corporate tax rate, eliminating pork barrel spending, free trade and medical malpractice reform are a few of the laundry list of issues Sen. John McCain said he could work on with President Obama.

"There [were] a number of areas that the president has clearly shifted his opinion on," the senator told me on "GMA."

Free trade seems the most promising, McCain said, and he was hopeful about revisiting healthcare and medical malpractice. Last night, in a State of the Union that McCain said had a "much different feeling," Obama signaled his willingness to revisit healthcare – just not repeal it.

So what will be the "real crunch" in the coming months? Raising the debt limit, per McCain, which he says the GOP is willing to compromise on.

"We need to get back down to at least 2008 spending. Some of us would like to see us go down to 2006. Between the last two years, discretionary spending went up some 80% if you count the stimulus package as well. We've got to get the spending level down," he said.
Watch the video below, courtesy of ABC News:
Have a tip we should know? tips@mediaite.com