Book of the Times: NYT Review of Hitler Biography Is an Apparent Critique of Trump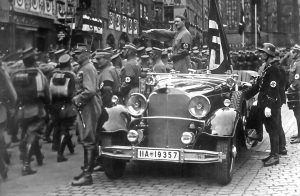 New York Times book reviewer Michiko Kakutani didn't mention Trump's name once in her review of Hitler: Ascent 1889-1939, the first volume of a new two-part biography authored by German historian Volker Ullrich. 
She didn't need to. The parallels between the "pathetic dunderhead" who became a dictator and the Republican presidential candidate are apparent from the opening paragraph:
How did Adolf Hitler — described by one eminent magazine editor in 1930 as a "half-insane rascal," a "pathetic dunderhead," a "nowhere fool," a "big mouth" — rise to power in the land of Goethe and Beethoven? What persuaded millions of ordinary Germans to embrace him and his doctrine of hatred? How did this "most unlikely pretender to high state office" achieve absolute power in a once democratic country and set it on a course of monstrous horror?
The review continues:
Mr. Ullrich offers a fascinating Shakespearean parable about how the confluence of circumstance, chance, a ruthless individual and the willful blindness of others can transform a country — and, in Hitler's case, lead to an unimaginable nightmare for the world.
The review is structured has a list of bullet-points explicating how a narcissistic "clown" became a fascist dictator. The review notes Ullrich's descriptions of Hitler's attributes and tactics including:
a "characteristic fondness for superlatives,"
his "bottomless mendacity,"
his ability to temper his most anti-Semitic views under a"mask of moderation" or tweak them to appeal specifically to "lower-middle-class, nationalist-conservative, ethnic-chauvinist and anti-Semitic listeners,"
his reliance on "mantralike phrases," which mostly consisted of "accusations, vows of revenge and promises for the future,"
and his success capitalizing on adversaries for initially dismissing him as "evening's entertainment."
Washington Post's Aaron Blake drew direct comparisons between the descriptions of Hitler presented in the review and our current national moment. But the Times says that the review speaks for itself.
You can read it in its entirety here.
—
[photo: By Charles Russell Collection, NARA. (Charles Russell Collection, NARA.) [Public domain], via Wikimedia Commons]
Sam Reisman (@thericeman) is a staff editor at Mediaite.
Have a tip we should know? tips@mediaite.com