Fox Panel Goes Silent When Greg Gutfeld Jokingly Implies Roger Ailes Gave Trump Sexist Advice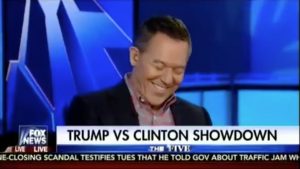 Ten points to Greg Gutfeld for having the Guts to pull this one off.
With the wounds still undoubtedly fresh in and around 1211 Avenue of the Americas since the ouster of former network Chairman and CEO Roger Ailes, Gutfeld suggested Tuesday afternoon that their former boss was involved with giving Trump bad advice of a sexist nature.
The reveal came during a conversation on The Five regarding Donald Trump's debate performance Monday night. "The other one that caught my attention was when he said the business about Miss Universe Alicia Machado," said resident liberal Juan Williams. "And then this morning he came on Fox & Friends and just doubled down and said you know what, she got fat."
Williams's commentary came after the revelation that a former Miss Universe winner was allegedly called 'Miss Piggy' by Trump after she gained weight. Machado is now being used in ads supporting the Hillary Clinton candidacy, and Trump hammered her on Fox & Friends Tuesday morning, saying:
That person was a Miss Universe person, and she was the worst we ever had. The worst. The absolute worst. She was impossible… you know, she gained a massive amount of weight. And it was a real problem. We had a real problem. Not only that — her attitude. We had a real problem.
After a beat of silence on The Five, Greg Gutfeld chimed in with, "[I] wonder who's giving that advice," invoking a quick laugh from Williams and Williams alone.
Eric Bolling, Kimberly Guilfoyle, and Dana Perino did not seem so pleased. Ailes has been reportedly advising Donald Trump on debate prep since being forced out of the News Corp family after mounting allegations of sexual harassment over his lengthy and influential tenure at the helm of Fox News.
Gutfeld prompted to move the segment forward, while Guilfoyle could only manage, "Do you have something… appropriate?"
Watch the above video from The Five.
—
[image via screengrab]
Have a tip we should know? tips@mediaite.com