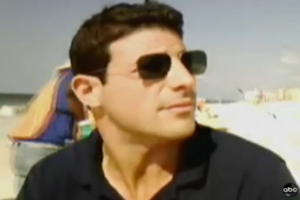 It seems like the longer the Gulf oil disaster remains in the news, the more opportunities for BP to be revealed as negligent or intentionally deceitful pop up. Yesterday, ABC News correspondent Matt Gutman found himself engaged in the latter when he was watched and questioned by a BP manager as he set up his laptop to talk on Skype by the shore in Orange Beach, Alabama– and near a cleanup crew.
"You mind if I ask why you've set up a camera right here while my guys are working?" the manager asked Gutman as the latter used his computer. BP workers walking up and down the shore are visible in the background. While the manager didn't ask Gutman to leave, since he was told he would only be there for about five minutes, he still checked up on Gutman, seemingly to make sure that he didn't ask the workers for interviews.
Gutman explains that it was common for BP managers to check up on him, and that journalists were being kept on watch. He added that, even if the top officials had made it policy not to bar employees from talking to journalists, he was still having a hard time getting anyone to talk about their company and the cleanup effort on the record. Even getting answers to questions like "who do you work for?" was difficult, he explained.
This isn't the first time BP has been accused of trying to block journalists by keeping them away from shores and telling employees not to talk to them. But BP insists that they have done nothing of the sort, with COO Doug Suttles releasing a letter on Wednesday saying "BP has not and will not prevent anyone working in the cleanup operation from sharing his or her own experiences or opinions" and, furthermore, they are open to having the free press report on what they see by the Gulf. Except here is video proving that, if not prohibiting employees from speaking to the press, they have been giving reporters a hard time for doing their jobs– or even looking like they are doing their jobs– and tainting the integrity of a company which Americans are increasingly reluctant to believe about anything at all.
• Related: Matt Gutman's Star Rises At ABC News

Video below:

Have a tip we should know? tips@mediaite.com