BP COO Expects Gushing Oil Well To Be Reduced To 'Relative Trickle' By Next Week (Update: Never Mind)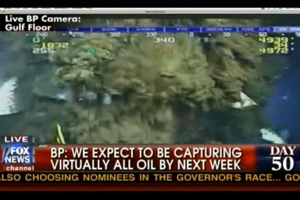 Finally, some good news: AP is reporting that BP COO Doug Suttles has told them that the company expects the oil leak flooding the Gulf of Mexico could be reduced to a "relative trickle" by next Monday or Tuesday, thanks to a new containment cap and the arrival of a second pumping ship.
From the AP wire report:
A top BP executive says the company expects to be capturing virtually all the oil leaking from the Gulf floor by early next week.

Chief operating officer Doug Suttles told The Associated Press on Tuesday in Gulf Shores, Ala., that the flow should decrease "to a relative trickle" by Monday or Tuesday.

Suttles says a second pumping ship should improve the process. And he says a new containment cap being built will seal better and reduce leakage.
BP has not offered much more information, but the optimistic report– excepting anything directly said by CEO Tony Hayward— is a different tone than the one BP took on in the past with the failed Top Kill attempt and other updates.
Below is the report from Fox News, where Shepard Smith noted that the last time the word "trickle" was used in a BP update it was yet another Tony Hayward gaffe.
UPDATE: Maybe Shepard Smith was right. MSNBC (via AP) just posted this update with the following clarification from BP:
"BP later sought to clarify his comments. It says that even though the company is optimistic it can make measurable progress in the next week in reducing the flow. And it says it will take more time to reach the point that the spill amounts to a trickle."
Have a tip we should know? tips@mediaite.com