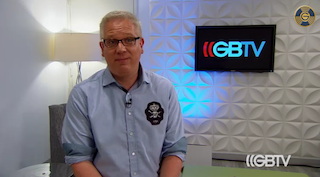 Much has been made about just what Glenn Beck's plan has been in moving to the Internet from Fox News. Due to some of his own comments, it seemed like maybe Beck was merely trying to go younger. However, during a set tour yesterday with other reporters, it became clear that the real plan was to go bigger. Never was that more clear than listening to Beck compare his brand new network to such cable big boys as HBO and ESPN.
Note than neither of those networks are Fox News. Or MSNBC. Or any other news network for that matter. Because that's not what they're going for.
"What would make anyone think that boxing, movies, Bill Maher all go together?" Beck asked. "Why do people go to HBO? Quality. That's what we want to do here."
A few months ago Beck was talking up everything from cartoons to graphic novels, and now it definitely seems like the goal is to create a real network, one that could live on its own without its namesake. Beck pointed out that he originally didn't want to have his name in the title and Chris Balfe, Mercury Radio Arts president, added that it would be interesting if, 10 years down the line, those "GB" initials were as inconsequential as the letters in "ESPN."
And, really, it's these other shows and projects that people in the media seem most interested in. We already know Beck can do his own show and it seems like the subscribers are there. It's not yet clear if he can sustain it for the full two hours of the new run time but, worst case scenario, they can always cut that back or diversify it by pulling in more contributors. However, will they be able to make these other series, shows that we assume won't have anything to do with Woodrow Wilson bashing, work?
To start off there is an educational children's show and a comedy show currently coming up. The comedy show, Brian Sack's B. S. of A. is of particular interest to me. For the past couple of days, GBTV has been previewing and introducing Sack by having him host the last ten minutes of Glenn Beck. The show, pitched as a right of center Daily Show but one Sack promises will be an equal opportunity offender, seems promising but, sitting in the studio last night, I couldn't help but think this format of introduction was doing it a disservice.
Last night, Beck opened his show by discussing the verdict in the trial of a man accused of killing an entire Israeli family and then segued into 110 minutes of warning his audience that the world was going to collapse and capitalists would be scapegoated. Not exactly the perfect material for a comedian to follow. Having interned on a televised comedy talk show before, I know just how much thought is put into audience warm up and, despite Sack having a couple of very devoted fans in the Beck's small studio audience, I wondered if this was really the best way to preview the show.
Of course, this crystallizes what makes the whole endeavor so fascinating. Right now, in most people's eyes, GBTV is still, literally, "Glenn Beck Television." And, while they clearly have a number of plans for the network's centerpiece show (Beck spent a lot of time talking up a number of upcoming technological innovations dealing with host/audience interactivity), perhaps the biggest thing to watch for is whether or not they can successfully launch these disparate shows.
Going by Balfe's ESPN comparison, it's interesting that the best possible thing right now for Beck would be for him to fade into the background.
Have a tip we should know? tips@mediaite.com