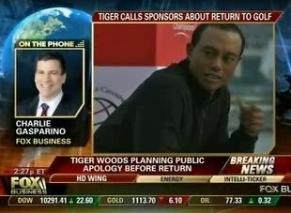 The last public statement made by Tiger Woods was on December 2, but now it appears he's about to reemerge publicly.
TMZ is reporting he will return to golf next month, while Charlie Gasparino, recently of Fox Business Network, reports he will first make a public apology, likely Friday.
As we first reported, a source who works for Tiger Woods told TMZ Tiger planned to play at Tavistock in March — a PGA event between the golf pros at Isleworth and the neighboring Lake Nona pros.
They also said he would play in the Masters.
Gasparino was supposed to make his FBN debut on Monday, but instead was on-air this afternoon with his scoop on the breaking news.
Said Gasparino ("the newest member of the Fox Business team," said anchor Liz Claman):
I have been speaking with sponsors who say they have been alerted by his reps that a public apology from Tiger Woods is imminent. It could occur as early as tomorrow sometime around 11am, and that there's going to be an announcement of the public apology that will be done at a press conference some time tonight. Now like I said, we don't have this yet from Tiger's representatives.
Back in December we put the odds for Woods breaking his silence by press conference at 12:1.
> Update: What the hell? Gregg Jarrett of FNC reports:
He's apparently not going to be answering questions from the media, who will not even be allowed in the same room. They're going to be – by the way only credentialed reporters, and not quite sure what that means – they're going to be in an adjacent room watching a closed feed. Now this is going to be a conversation that Tiger's going to be having with a group of friends, colleagues and close associates.
Here's the FBN story:


—–
» Follow Steve Krakauer on Twitter
Have a tip we should know? tips@mediaite.com