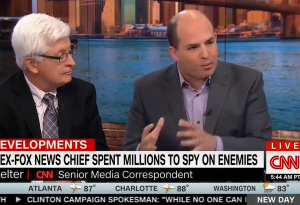 CNN's senior media correspondent Brian Stelter is married to New York 1's morning traffic reporter Jamie Stelter, which is the sort of power-couple-y fairytale that broadcasting majors daydream about in the back of junior-year lighting lab. (Anyone else? Anyone? No? Just me? Okay!) Before that, though, Stelter was just a single guy who created and maintained the popular website called TVNewser, which covers broadcast media.
During the early years of the site, when Stelter was still in college, he went on some dates, as college kids do. This morning on New Day, though, he talked about a few dates that were not what they seemed. Here, watch him explain it:
Yeah, he admitted that he's pretty sure one of the women he used to go out with was a spy for Fox News. That is very much in line with the recent reports that Roger Ailes maintained a stable of spies whose job within his company was to monitor the goings-on at everyone else's. Those reports raise questions about the legality and morality of what he had his insiders doing while he paid them with Fox's money. We reached out to Fox for comment and will update when we hear back.
I found out a year later, after she left Fox. No hard feelings. I don't think it was even an "effective" operation https://t.co/QD46s1G2uh

— Brian Stelter (@brianstelter) August 9, 2016
Ha! Yes, 10/11 years ago– In fact, there was a different head of Fox News PR back then. Brian Lewis led the PR dept https://t.co/KGXIX3Gjlb

— Brian Stelter (@brianstelter) August 9, 2016
Of course, now that Ailes is out at Fox in the wake of allegations of sexual harassment from Gretchen Carlson and others, there are stories about his misconduct popping up all over the place. Whether any of them are true or not remains to be seen, as Chris Cuomo was very careful to point out in the clip above. Still, as Mediaite's founder Dan Abrams put it, when you go digging where no one has searched before, you will find treasure.
That being said, there were probably few treasures found by Stelter and his sham date, but he did tweet today that there are "no hard feelings." Still, let this be a lesson to you the next time you chat up a cutie at a networking event.
[image via screengrab]
Have a tip we should know? tips@mediaite.com