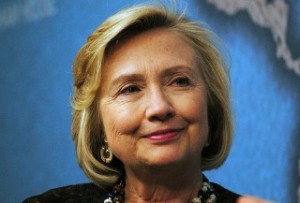 With a Hillary Clinton presidential run a near-certainty at this point, now is the time for all doubters to come forth. Today it was National Journal's Charlie Cook, who asked a question today that's sure to raise a few eyebrows: is Hillary Clinton just too old to run for president?
It's a criticism that's been leveled before at men like Ronald Reagan and John McCain, and Cook is now making the case that the 66-year-old Clinton may not be up for the five-to-nine-year commitment required of a president that serves one or two terms.
The choice to run for president is effectively a nine-year commitment: one year to run, another four years if she wins a first term—finishing up that term at age 73—and then, assuming she runs for reelection and wins, serving four more years to end a second term at 77 years of age. None of this is to say that the age issue could successfully be used against her. After all, Reagan won the presidency at the same age. But how many 67-year-olds make nine-year commitments, and what concerns have to be addressed if they do?
He argues that in her last year as Secretary of State under President Obama, all the international travel "clearly took a toll on her health," and running for president is "considerably more physically demanding"; traveling all around the country, making speeches, holding rallies, the whole nine yards.
And if she does run, Cook doubts she'll get a "free ride," suggesting that Joe Biden, Howard Dean, and others would almost assuredly get in the race even if she runs. And the field can only get more scattered than that if Clinton decides against it.
[photo via Chatham House]
— —
Follow Josh Feldman on Twitter: @feldmaniac
Have a tip we should know? tips@mediaite.com
Josh Feldman - Senior Editor