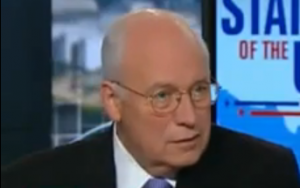 John McCain may have done his best to stow old Bush administration personalities away for his presidential campaign, but Fox News is reporting that a new poll shows former vice president Dick Cheney is actually a fairly popular choice among Republican voters to run for president in 2012.
In a poll that was probably taken about a year too soon, 10% of a pool of 2,003 Republicans supported a Cheney presidential run. The organization that conducted the survey, Research 2000, is simultaneously described as being "non-partisan" and having an affiliation with Daily Kos, though they surveyed only Republicans and there is no indication that, even if they did harbor a bias, the case of Cheney making a splash in the primary pool would do little to benefit their cause. The presidential nominee question was also one in a variety of opinion questions such as "should Obama be impeached?" and "do you think ACORN stole the 2008 election?" that received surprising responses (more people than one would imagine – 39% and 21%, respectively – said yes to those questions).
The poll results are good news for Sarah Palin, who led in the polls with 16% support, and Mitt Romney, who received 11% support. These results, however, are fairly predictable: Palin is the new face of Fox News and the tea party generation; Mitt Romney is… well, Mitt Romney just is, and he ran for president once so he may be the only name subjects polled could remember, especially compared to some of the other options.
The news here is the emergence of Cheney as a viable third candidate for the Republican nomination to the presidency. Cheney beat out five of the other options, many of which have been more actively suggesting a possible run for office: former Speaker of the House Newt Gingrich, 2008 presidential candidate Mike Huckabee, Minnesota governor Tim Pawlenty and a surprising appearance by South Dakota senator John Thune. Cheney has suffered a chronic case of unpopularity since his early days as vice president, but his favorability ratings remarkably started to surge as soon as he left the White House. Last May CNN reported that between his departure from the White House in January 2009 and May of that same year, his popularity rose 8% among all Americans. Although Matt Yglesias was quick to point out that this still made him only slightly less popular than the communist nation of Cuba, that bump almost a year ago has apparently snowballed into a potential presidential run (Fox News is reporting that there are groups in favor of "drafting" Cheney to the presidency, but this might be stretching the truth a tad). For now, Cheney has adamantly turned the idea down, and the chances of him gaining significant ground on someone like Palin are slim, but if there's one thing 2010 has taught us, it's not to trust an old man claiming to be happy to retire from a great job.
See the full poll results here.
Have a tip we should know? tips@mediaite.com