China Expels French Journalist Over Article Critical of Gov't on Ethnic Violence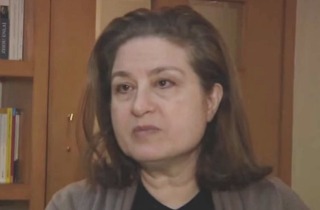 A French journalist has been expelled from China by the nation's Foreign Ministry because of a report she filed about ethnic violence, making her the first foreign reporter expelled from China in the past few years.
Ursula Gauthier, a reporter for the French publication L'Obs, wrote an essay about how just days after the Paris terrorist attacks, the Chinese government attempted to connect it to violence against Chinese miners who were reportedly stabbed to death by Uighur militants. Uighurs, a predominantly Muslim ethnic minority in China, have been targeted by the Chinese government, Gauthier wrote, and the attempt to link the attack to Paris was "not entirely free of ulterior motives."
As you can imagine, this did not go over well in China. A state-run media outlet ran a scathing editorial denouncing Gauthier, and today, according to The New York Times, the Chinese Foreign Ministry said they're expelling her from the country.
A Foreign Ministry spokesperson explained that all they wanted was an apology to the people of China for what she wrote, saying while China "has consistently safeguarded the legal right of foreign news organizations and foreign correspondents to report in the country," they don't tolerate "the freedom to embolden terrorism."
Gauthier dismissed that charge and said that's not the problem they have with her essay:
"If it were true, if I was really supporting terrorism, I should have been indicted because it is a crime. [But] they are not indicting me, they are expelling me and they expect people to believe that this is the real issue. It is not the real issue. The real issue is that they have their own narrative of what is happening in Xinjiang and they want everyone in China, including the foreign press, to use their narrative. They don't want any other kind of explanation or interpretation."
And Gauthier has been tweeting up a storm on the matter:
Some still tell me not to lose hope. Don't know how I should feel https://t.co/rL6CceWj6v

— Ursula Gauthier (@ugauthier) December 25, 2015
Well yes. See how difficult it is to simply go to those areas without being stopped https://t.co/hOquNXOmyd

— Ursula Gauthier (@ugauthier) December 25, 2015
I had similar experience in XJ and Tibetan areas too, not to mention TAR closed for foreign journos https://t.co/71R9inzTtR

— Ursula Gauthier (@ugauthier) December 25, 2015
Lu Kang accuses me of "emboldening terrorists". How absurd ! https://t.co/kNyOX1F7NF

— Ursula Gauthier (@ugauthier) December 26, 2015
They never left a chance for a "negotiated" solution. They required complete surrender from the beginning https://t.co/3s6e5gexVz

— Ursula Gauthier (@ugauthier) December 26, 2015
Even more damning : the government has cornered itself into letting the nationalists dictate it's policy with press https://t.co/h3owx4worf

— Ursula Gauthier (@ugauthier) December 26, 2015
If you want to read Gauthier's original report (translated to English), you can do so here.
[image via screengrab]
— —
Follow Josh Feldman on Twitter: @feldmaniac
Have a tip we should know? tips@mediaite.com
Josh Feldman - Senior Editor