Christine Quinn Furiously Rebukes Trump Supporter Over Racial Attacks on Judges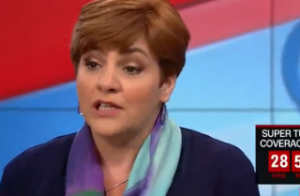 Today on CNN, Kate Bolduan and John Berman decided to bring on a panel of Republicans and a Democrat. Would you care to guess what happened?
Yeah, it got a little heated.
Here are former Speaker of the New York City Council Christine Quinn, former Senior Advisor for Mitt Romney's presidential campaign Kevin Sheridan, and John LaValle, a delegate for Donald Trump:
Bolduan had to act just like colleague Jake Tapper when the subject of Donald Trump's racial slights against judges came up. LaValle tried to deflect and talk about something broader, just as Trump did when Tapper brought up the same topic three days ago, but Bolduan steered the conversation back to the judges.
Quinn, a supporter of Hillary Clinton, did not act as calmly, perhaps because she didn't have to play the role of an impartial host.
First, she hit LaValle with a "that's ridiculous" in response to his assertions about judges of certain racial and religious backgrounds being biased. Next, she went off with, "You're saying the appearance is someone's religion. Their appearance is their religion. Their appearance is their heritage. That is not judicial ethics! And if you go in your line of thinking, Donald Trump had a huge spat with the Pope. Are Catholics next? There's a whole bunch of women who feel they have been maligned by Donald Trump. Are female judges left? Then who's left in your line of thinking? Republican, white, male judges? That's not America."
Throughout this, LaValle was trying to interrupt her, which she prevented by continuing to speak. Bolduan, too, told him to sit tight and wait for Quinn to finish.
Watch above to see the entire thing.
[image via screengrab]
For more from Lindsey, follow along on Twitter and Facebook.
Have a tip we should know? tips@mediaite.com