CNN's Brianna Keilar Writes Powerful Piece on Her Experience as a Military Wife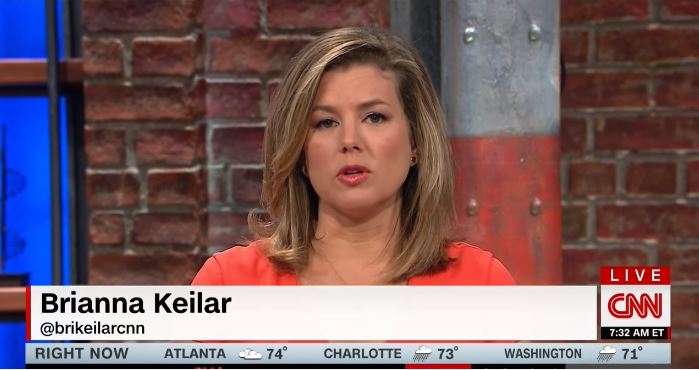 CNN anchor Brianna Keilar penned an emotional piece today detailing what it's like to be both a military wife and a reporter in these politically polarizing times.
Keilar, whose husband is currently away on his sixth military deployment, weighed-in on President Donald Trump's feud with Congresswoman Frederica Wilson in the story, writing, "Moments of dignity and solemnity have been interrupted over and over by politics and vitriol and today, it seems, is no different." The solemn moment in question being a reference to the death of Sgt. La David Johnson and three other American troops in Niger this month.
In the article, Keilar also talked about the difficulties of being a military spouse in general — from late-night Skype calls, to a feeling of uncertainty about her husband's safety, and how close-to-home stories like Johnson's death can hit.
A particularly powerful paragraph went as follows:
"In the end, duty and responsibility call [Keilar's husband]. There is no Washington desk job and here we are — he is deployed as I sit on a television set in front of countless lights. And for this moment, as I listen to John Kelly describe my worst fear, I am not a news person at all. I am only a military wife trying not to lose it in front of a panel of my colleagues and experts and our entire floor crew."
One colorful anecdote Keilar noted is a Twitter spat she got into with an angry Trump supporter. The CNN reporter had tweeted about watching the film "Taking Chance" — which details the story of a killed-in-action Marine's body being sent home — to which the conservative Twitter user responded, "It's telling that you are only now watching this. Been out for years. More evidence U and other media R in a bubble & don't know real people."
To this, Keilar replied, "My husband is on his sixth deployment right now. You don't know anything about me."
As I'm watching Taking Chance this tweet alerts on my phone. And that about sums up this week for me. https://t.co/ujCmIbHBhi

— Brianna Keilar (@brikeilarcnn) October 21, 2017
My husband is on his sixth deployment right now. You don't know anything about me. https://t.co/wwTRESCasS

— Brianna Keilar (@brikeilarcnn) October 21, 2017
She then explained the Trump supporter ultimately apologized to her for his "ill informed, mean snarky tweet."
"If a heartfelt apology on Twitter isn't enough to restore some small semblance of faith in humanity, I don't know what is," said Keilar, accepting the apology.
[featured image via screengrab]
Follow Caleb Ecarma on Twitter. 
Have a tip we should know? [email protected]