Cokie Roberts: People Call Obama Muslim In Lieu Of 'I Don't Like Him Cause He's Black'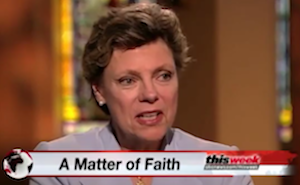 Yesterday's Easter Sunday episode of This Week was titled "God and Government" and focused on the unique relationship between "politics and the pulpit" according to host Christiane Amanpour. The early part of the show featured discussions with a variety of religious leaders (at least one of whom sounded a lot like a Birther), but the later half featured a roundtable discussion about Barack Obama's faith and the perception by some that the president is actually Muslim (supported by a poll that indicates that a fifth of America think believes so.) Cokie Roberts explained the reason why: Americans are racist.
Transcript of the exchange (courtesy of NewsBusters):
ROBERTS, C.: But – but the bad part about this is that he – that – that it's acceptable to say that he's a Muslim…

EBOO PATEL, INTERFAITH YOUTH CORE: That's right.

ROBERTS, C.: …because the same people won't – won't say, "I don't like him cause he's black." So it's – it's – and – and the fact that it's acceptable to dislike him because he's a Muslim is the problem that you were talking about.
Noel Sheppard chided Roberts for "calling Americans racist, despite there being an African-American in the White House, is acceptable on Easter Sunday," adding "I doubt I'm the only one that felt this was highly inappropriate on such a holy day."
To be clear, Roberts wasn't calling all Americans racist, she was simply explaining why some Americans believe Obama is Muslim despite his repeated claims of being Christian. And the show was almost certainly taped days before Easter Sunday, so the critique of Roberts making such a claim isn't entirely fair.
Watch the clip and see for yourself below, courtesy of ABC News:

(H/T NewsBusters)
Have a tip we should know? tips@mediaite.com