Condi Rice Revives Presidential Speculation After Ripping Obama's 'Weary' Foreign Policy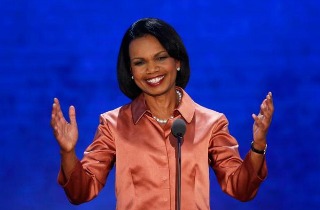 Speaking before a group of over 2,000 attendees at the National Republican Congressional Committee's annual dinner in Washington D.C., former Secretary of State Condoleezza Rice revived speculation in her future political prospects with a speech in which she took aim at America's "weary" foreign policy under President Barack Obama.
"Right now, there's a vacuum," Rice said, according to a report via The Weekly Standard's Stephen F. Hayes. "There's a vacuum because we've decided to lower our voice. We've decided to step back. We've decided that if we step back and lower our voice, others will lead, other things will fill that vacuum."
Rice sited the ongoing civil war in Syria, the return of Al Qaeda to Iraq, China's antagonism toward Japan and the Philippines, and Russia's aggression in Europe as examples of how the post-Cold War order is beginning to fray.
"I fully understand the sense of weariness," she revealed. "I fully understand that we must think: 'Us, again?' I know that we've been through two wars. I know that we've been vigilant against terrorism."
"I know that it's hard," Rice continued, "but leaders can't afford to get tired. Leaders can't afford to be weary."
RELATED: Condoleezza Rice Brings RNC Crowd To Its Feet Multiple Times With Stirring Foreign Policy Speech
In early 2012, speaking at a meeting of Republicans in Utah in support of Republican presidential nominee Mitt Romney, Rice delivered an well-received address which had attendees buzzing about the former secretary of state's potential as a prospective running mate. Similarly, those who attended last night's speech told Hayes that Rice's speech made them wonder if she should rethink her position on reentering politics ahead of 2016.
"There's one thing that's not on her resume and I want her to put her mind to it to resolve that in 2016," said House Majority Whip Kevin McCarthy (R-CA) after listing Rice's various titles and accomplishments.
Political analysts note, however, that Rice's support for comprehensive immigration reform and her pro-choice stance on abortion rights would make her an unlikely prospect to emerge from the early presidential primary contests with momentum.
Read the full report via The Weekly Standard
[Photo via Mike Segar/Reuters]
— —
> >Follow Noah Rothman (@NoahCRothman) on Twitter
Have a tip we should know? tips@mediaite.com