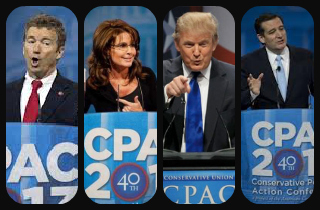 Another major conservative event means it's that time again to evaluate who emerged shining… and who didn't.
Let's take a look at the Top 5 winners and losers of CPAC 2013:

WINNERS
(in no particular order)
1) Rand Paul: Riding high off his filibuster, Rand Paul yet again is in top form, literally: he won the conference's annual straw poll. Emerging onto the stage to Metallica's Enter Sandman, the senator thrilled the crowd, with many standing throughout his speech as a sign of solidarity. "I Stand With Rand" t-shirts were common to see on attendees. By association, and based on the number of libertarians scattered throughout the conference's events, as well as the topics of some panels, libertarianism also experienced a triumphant weekend.
2) Ann Coulter: The conservative commentator and author, who had seen her popularity slip since the primaries, bounced back with a vengeance. In an address balanced with jokes and substance, the blond icon came across as fearless (blasting amnesty repeatedly) and engaging, reminding everyone listening (even the many conservatives who found one or two of her remarks disagreeable) why she deserves her place among conservative superstars.
3) Gay marriage: Could the ACU's ban on GOProud's participation have possibly backfired any worse? (Note to self: Have ACU ban my participation in the future.) Despite taking place at the same time as the meet-and-greet with Congressman Paul Ryan, Thursday evening's panel on gay inclusion (which the libertarian Competitive Enterprise Institute smuggled into the events schedule via a loophole) was so crowded that attendees were sprawled on the floor, pressed up against doors, and craning their necks for a view of the panel, in a conference room that quickly became fire-department-defying, standing-room-only. (In stark contrast, the National Organization for Marriage's event was nearly empty.) Then, in an opinion piece published the next morning, Senator Rob Portman (R-OH) announced his newfound support for gay marriage. And, earlier today, conservative commentator George Will noted the opposition to gay marriage is literally dying.
4) Jimmy LaSalvia: The GOProud chief definitively emerged as the voice of gay conservatives in an address that is sure to have historical resonance. LaSalvia diplomatically spoke of the need for conservatives to support gay rights and powerfully called on the crowd to join the cause. The room, unsurprisingly, erupted in applause as he closed his remarks. Noted liberal journalists, such as Fox News's Sally Kohn, rushed LaSalvia during the post-panel reception, eager for a chat with its star.
5) Ted Cruz: On the list, again! Cruz's keynote speech was a slam-dunk and, yes, delivered sans teleprompter. His inspirational "Do we surrender or do we stand up now?" closing line is sure to stick around. As he did with the filibuster, Cruz once again managed to perfectly tow the line between mainstream conservatism and libertarianism, railing against drones. Remarkably, Cruz is the only individual – whether a politician or media personality – who is able to so effortlessly draw upon the tenets of both without most listeners even noticing.
LOSERS
(in no particular order)
1) Marco Rubio: Sorry, Marco. Hate to do this to you again but you make the cut. Rubio's speech, much like many of Mitt Romney's, waded far too deep into slogans and hallmark-card territory – heavy on style but thin on substance. His: "The idea is America and it still works!" received rounding applause but afterward some attendees grumbled it was, in hindsight, a bit corny. His failure to mention immigration reform – his signature piece of potential legislation – was odd, at best. Did he do so to avoid jeers from anti-amnesty attendees? If so, is omission for the sake of a seamless CPAC appearance laudable? And, coming in second to Rand (though only by about two percentage points) in the heavily-youth-influenced straw poll also does not send a great message about younger conservatives' support for Rubio over the libertarian-leaning Kentucky senator. Rubio seems to be off his game the past few months and conservatives are eager to see him regain his groove – that which we have all seen and know he is capable of. Get it together, Marco.
2) Immigration reform: While ACU Chief Al Cardenas ensured the event would promote immigration reform (and made no secret of his intent), many of the prominent speakers used the podium to blast the idea, ranging from Jim DeMint, to Donald Trump, to Ann Coulter. No consensus on backing immigration reform emerged from the event. Sorry, Al.
3) Donald Trump: Despite warning attendees that they should get there early to secure a seat, Trump spoke to a room that was, well, not crowded. To be fair, though, Trump graciously agreed to take the unenviable 8:45 am slot (a time most attendees are still in hitting the snooze button). His anti-amnesty remarks were also poignant enough to receive a good deal of media attention and conservative approval, so let's blame this more on his slot rather than the Donald himself, who took a chance in attending many would not have. Still, he makes the list for the amount of guffaws over it (though unfair), from both sides of the aisle.
4) Traditional marriage supporters: (see above)
5) Sarah Palin: A Big Gulp? Really, Sarah? 7-11's signature drink would actually not have been banned under the NYC ordinance. The crowd-pleasing tactic was not only obvious and cheap but the soda-ban defiance jokes are a few days old and thus stale. To make it worse, apparently no double standard will stand in the way of Palin and a catchy speech! Rather than focusing on the (many) grounds on which to attack President Obama, or on which to unite conservatives, she sneered about Washington's "reality television" world (rich, coming from someone who made $250K an episode off her own reality show); that the President should "do his job" (again, rich, from someone who resigned her governorship); that he should step away from the teleprompter (as she read this joke, you know, off a teleprompter); and that Karl Rove should stop criticizing and put his name on a ballot instead (again, from someone who hasn't put her name on a ballot since 2008). Perhaps one should add "all conservatives" under the "CPAC losers" list for, the longer we provide a platform for Palin, the more we all, by association, go down with the sinking, embarrassing ship. S.O.S. Please, stop the Palin insanity.
Who do you think were the winners and losers to emerge from this year's CPAC? Sound off in the Comments field below!
Follow AJ Delgado on Twitter >>> @missADelgado
Have a tip we should know? tips@mediaite.com