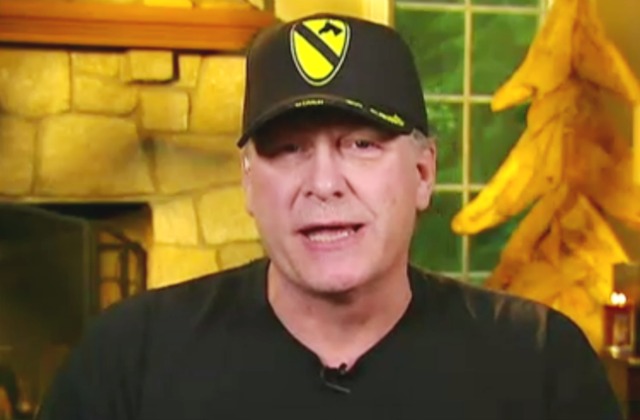 So over the past 24 hours, the media — especially the conservative media — has focused quite a bit of attention on the controversy surrounding ESPN host Jemele Hill calling President Donald Trump a "white supremacist." The story was only bound to grow after White House Press Secretary Sarah Huckabee Sanders said Hill's remarks constitute a "fireable offense." (ESPN publicly reprimanded her but has not announced a suspension. She was on the air in her regular time slot Wednesday evening.)
During an appearance on The Sean Hannity Show this afternoon, one former ESPN analyst who was fired over inflammatory remarks and social media posts went all in on his former employer and colleague. Ex-baseball great and current Breitbart podcaster Curt Schilling made sure that the bridge was completely burned between him and ESPN when he accused the network of supporting "liberal racism" — reiterating a point he made on Twitter last night — and slamming current ESPN personalities.
Host Sean Hannity wanted to know why Hill hadn't been fired over her tweet — which he said "outraged" him — especially considering Schilling had been canned.
"Let's be very clear about something," Schiling responded. "Jemele Hill has always been a racist — the things that she says, the things that she does — I don't have a problem the fact that Jemele Hill is racist, that Bomani Jones is racist, and Colin Kaepernick knelt for a lie, and that Disney and ESPN, who they own, supports liberal racism."
He added, "I have a problem with them lying about that, and acting as if it's not true."
After Hannity stated that he's not advocating for Hill's firing, Schilling went on to rip "the left" for being the "party of identity politics" before addressing the social media memes that resulted in his firing, calling them "factually" correct.
Listen to the clip above, via Media Matters.
[image via screengrab]
—
Follow Justin Baragona on Twitter: @justinbaragona
Have a tip we should know? tips@mediaite.com