Daily Beast Drops Howard Kurtz After Erroneous Claim Gay NBA Player Did Not Disclose Prior Engagement (UPDATED)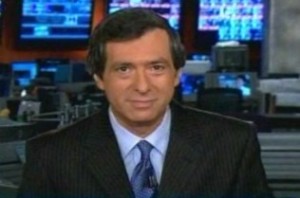 According to Tina Brown, Newsweek/Daily Beast's editor in chief, her publication has decided to end their relationship with Howard Kurtz after he mistakenly claimed that NBA center Jason Collins, who recently came out as gay, had failed to disclose that he was previously engaged to be married to a woman. POLITICO reports that the announcement curtly states that Kurtz and Daily Beast have "parted company."

RELATED: The Daily Beast Retracts Howard Kurtz Post About NBA Player Jason Collins Coming Out, Citing ' Several Errors'
In a recent column and accompanying online video, Kurtz claimed that Collins had failed to disclose the relationship. He later edited the post to note that Collins had, in fact, "downplayed" that aspect of his private life.
The post and video were later taken down.
The Daily Beast issued the following correction to Kurtz's piece:
In his original blog post, Kurtz incorrectly stated that Collins "didn't come clean" about the engagement. In an amended version, Kurtz added that Collins "downplayed" the engagement and "didn't dwell on it."

The Daily Beast sincerely regrets Kurtz's error—and any implication that Collins attempted to hide or obscure the engagement.
Brown writes in a statement announcing their decision to terminate their relationship with Kurtz that they still have a number of other political contributors employed with the site.
"The Daily Beast and Howard Kurtz have parted company. Under the direction of our newly named political director John Avlon we have added new momentum and authority to our Washington bureau with columnists such as Jon Favreau, Joshua Dubois and Stuart Stevens joining our outstanding DC team of Eleanor Clift, Daniel Klaidman, Michael Tomasky, Eli Lake, David Frum and Michelle Cottle – giving us one of the best politics teams in the business which was instrumental in this week's Webby win for Best News site."
h/t POLITICO
UPDATE: Kurtz responded to the news on Twitter, confirming that the decision for him to leave The Daily Beast was mutual:



—
> >Follow Noah Rothman (@NoahCRothman) on Twitter
Have a tip we should know? tips@mediaite.com