The 'Hillary' Is Silent: Emily's List Launches Campaign To Put 'A Woman' In The White House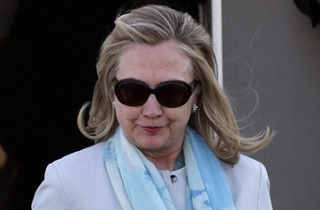 Pro-choice advocacy group EMILY's List held a press conference Thursday to announce the launch of their campaign to put "a" woman in the White House, not any particular woman, just, you know, a woman (sneezing noise) Hillary! The group plans to target voters in swing states with a "six-figure" digital ad buy, and will be holding events in Iowa and New Hampshire in the coming months. Emily's List also commissioned a poll that contains good news for a woman who might want to run for president in 2016, if such a woman even exists.
EMILY's List President Stephanie Schriock held a press conference at Washington, DC's National Press Club to roll out the Madam President Campaign to put a woman in the White House. From the group's press release:
"The EMILY's List community – now more than two million members strong – and countless other Americans across the nation, are ready to put a woman in the White House who will move the country forward," said Stephanie Schriock, President of EMILY's List. "In 2012 voters across the country elected an historic number of women leaders because they had the right priorities— the Madam President campaign will build on that base, harness their energy and enthusiasm for women's leadership, and channel it towards putting a woman in the Oval Office. We have a deep bench of women leaders committed to fighting for progressive change who are up to the task of taking their place on the Democratic ticket in 2016 and beyond. It is clear that this is our time – we are ready for a Madam President."

Harnessing the energy and resources of the more than two million member EMILY's List community, the Madam President campaign will capitalize on the demand for women's leadership that was made evident during the 2012 election, when the Republican Party overwhelmingly lost to progressive Democratic women candidates across the country.

The Madam President campaign will target 2016 battleground state voters and hold events in Iowa, Nevada, and New Hampshire in the coming months. The effort will also include significant, sustained online advertising to engage nationwide support, as well as other online activity.
The announcement was accompanied by a poll that showed voters in battleground states are receptive to a woman presidential candidate, including one data point that's particularly good news for a specific woman (emphasis mine):
Battleground voters are ready for a woman president, and the country is, too. Almost unanimously (90%), voters in the battleground states would consider voting for a qualified woman candidate from their party. Their readiness goes deeper than this though – 86% believe that America is ready to elect a woman president, and 72% believe that it is likely that America will elect a woman president in the next presidential election, including 86% of Democratic primary voters.
While this initiative isn't ostensibly specific to any one woman, former Secretary of State Hillary Clinton is the only female 2016 hopeful currently polling above single-digits, and she's rocking it. An unlikely-to-run Senator Elizabeth Warren (D-MA) is polling at 8% among Democrats, while on the GOP side, Governor Susana Martinez (R-NM) is polling at 1% nationally. It's early yet, and Democratic heavyweights are still acting like Hillary's run is an open question, but Democratic hunger for a female candidate bodes well for the former Secretary of State. Those 86% probably aren't holding out for Michele Bachmann. Can you say "inevitable?"
Have a tip we should know? tips@mediaite.com